Lockerbie: Abdelbaset al-Megrahi's death resolves little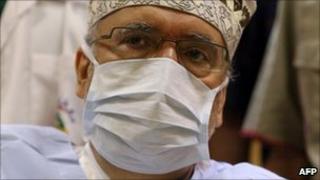 Abdelbaset al-Megrahi's death resolves very little.
It releases him from the pain of the cancer that killed him. But the suffering continues for the relatives of the 270 people who died when Pan AM flight 103 blew up over Lockerbie in December 1988.
Some British relatives have never been convinced of Megrahi's guilt.
Those who are know that he could not have acted alone, and that justice has so far evaded others responsible for what Scottish prosecutors believe was a state-sponsored act of terrorism.
The case has never been closed and regime change in Libya has opened up new lines of inquiry.
The FBI's director, Robert Mueller, and Scotland's chief prosecutor, the Lord Advocate Frank Mulholland, have recently returned from talks with the new authorities in Tripoli.
If that leads to fresh prosecutions and a fresh examination of the evidence, that will be widely welcomed.
But if the investigation leads all the way to former Libyan dictator Colonel Muammar Gaddafi, he can no longer be held to account.
Megrahi remains the only man ever convicted in this case.
His release from Greenock prison in August 2009 was not a pardon.
He goes to his grave a guilty man.
It was his decision to drop his second appeal against conviction shortly before the Scottish government's controversial decision to free him on compassionate grounds because he was diagnosed with terminal prostate cancer.
Ending his legal action was not a formal condition of his release and the Scottish government has repeatedly denied suggestions that it indicated to Megrahi that doing so would help his case.
'Good faith' prognosis
It remains open to his family to launch a posthumous attempt to clear his name.
Megrahi was freed because the head of the Scottish Prison Service's medical team, Dr Andrew Fraser, judged that he may have three months of less to live.
With pioneering new treatment in Libya, Megrahi infamously outlived this prognosis 11 times over.
Now that he has succumbed, the Scottish government may feel able to publish the medical reports which informed the prognosis.
This will allow the public to see what the specialists said and assess the government's claim that Dr Fraser acted in "good faith".
This is perhaps one area where Megrahi's death will allow new light to be shed.
But arguments over the safety of his conviction will persist, as will the wider controversy over who ordered the Lockerbie bombing.
And, for the relatives of victims, the pain will never die.