Leveson Inquiry: Cameron 'briefed' over Murdoch meeting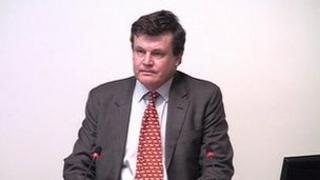 News International executives briefed David Cameron on "what to say and how to say it" before he first met Rupert Murdoch, the Leveson Inquiry has heard.
But the Daily Telegraph's Peter Oborne said an unnamed NI employee was shocked when Mr Cameron "wouldn't play ball".
"I thought good on him," Mr Oborne told the media ethics inquiry in London.
He said Mr Cameron's strategy in his early days as Conservative leader was to treat the Murdochs and their staff no different to anyone else.
Mr Oborne, the author of several books on politics and the media, told the inquiry that national newspapers had repeatedly "looked the other way".
Private deals
The Telegraph's chief political commentator said: "In the aftermath of Iraq and Afghanistan, many British newspapers remained silent on the issue of complicity in torture, British complicity in torture."
He added: "There was pretty well an omerta in Fleet Street surrounding the very strong evidence about phone hacking."
Mr Oborne said political reporting had become a case of private deals between journalists and politicians.
He said: "I saw again and again journalists and politicians entering into a conspiracy against the readers.
"People who tried to report objectively and fairly were frozen out, were bullied, victimised, not given information.
"People who were part of the inner circle and developed social connections with the powerful political people were favoured."
Mr Oborne told the inquiry that the MPs expenses "scam" was deliberately ignored by a negligent media despite the practices going on for years.
News International receptions at annual party conferences were extraordinary power events attended by the entire cabinet, he added.
Thatcher stance
Later at the inquiry on Thursday, Sir Harold Evans, editor of the Sunday Times from 1967 to 1981, described Rupert Murdoch as "evil incarnate".
He said Mr Murdoch's bid in 1981 to take over the Sunday Times was favoured because "he was the man to take on the unions".
Sir Harold told the inquiry how he feared that Mr Murdoch's entrance into British newspapers would have a detrimental effect on tabloid journalism.
He described how they clashed over the newspaper's position on Margaret Thatcher's economic policies.
He said: "Mr Murdoch was constantly sending for my staff without telling me and telling them what the paper should be."
Sir Harold said he eventually resigned because he was "absolutely disgusted, dismayed and demoralised by living in a vindictive, punitive atmosphere".
The third module of the Leveson Inquiry is focusing on the relationship between the press and prominent politicians as part of its examination of the ethics, culture and practices of the UK's newspapers.