Surrey Police puts roles for private firms on hold
17 May 2012

From the section

England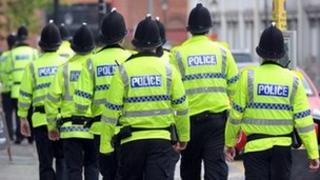 Plans to contract out some elements of Surrey policing to private companies are to be put on hold until the autumn.
Surrey's Chief Constable Lynne Owens said she wanted to delay the plans until after the London Olympics and to allow time for a consultation.
West Midlands Police was also exploring working with the private sector and was asking the police authority to consider "a revision to the process".
But a spokeswoman said the force remained "committed to the project".
'Dangerous experiment'
Chief Constable Chris Sims said: "I want to make it clear this programme is not about privatising the police or outsourcing the service."
Ms Owens told Thursday's meeting of Surrey Police Authority, at which she announced the process would be put on hold, she did "not want anyone apart from Surrey police officers patrolling the streets of Surrey and doing investigations".
Labour has said the plans risk "crossing a line" into core policing while unions Unison and Unite have called the proposals a "dangerous experiment".
Surrey's Police Federation welcomed the decision to put the plans on hold - saying it had faith in Ms Owens.
The plans for the privatisation of some of the force's services were drawn up by her predecessor Mark Rowley, who was appointed Assistant Commissioner at Scotland Yard last October.
Ms Owens previously said one practical benefit of bringing in private firms could be a system which allowed victims to track their cases in a similar way to that in which people check on the delivery status of letters or parcels.
'Backbone of service'
In March, the West Midlands and Surrey forces invited bids for £1.5bn worth of services from private firms, on behalf of all forces.
Companies attending a bidders' conference in London were told work that could be contracted out included guarding crime scenes, patrolling neighbourhoods and collecting CCTV footage.
The forces have said they received 264 responses for "middle and back office functions".
Mr Sims insisted on Thursday the scheme was not "about private security guards patrolling neighbourhoods or exercising powers of arrest".
"These roles form the backbone of our service and will remain sacrosanct," he said.
"There are ways, however, that a partner may be able to help us undertake certain roles more effectively and in doing so help us protect the front line."
In a statement, West Midlands Police said it was asking the authority to consider a revision to the original process "to allow engagement with the market, public consultation and to allow both forces to contribute to a safe and secure Olympics".
The force said it was presenting a paper to its authority next Thursday, 24 May, where consideration "is to be given to the timetable and the release of funds".
But Gerard Coyne, of Unite, said: "Private companies are being asked to bid to run core police services for profit. This is yet another attempt to pull the wool over our eyes.
"The government and the leadership within WMP (West Midlands Police) are trying to rush through privatisation.
"Significant parts of police services are up for sale but Chief Constable Chris Sims won't come clean about the real impact privatisation will have on such an important public service."
'Very worried'
The Police Federation said the scheme was "an extremely dangerous road to take".
Shadow Home Secretary Yvette Cooper said she was "very worried" at the pressure police were under to "cross the line" because of government cuts.
But Police Minister Nick Herbert said core policing would not be privatised and insisted the plans were "about supporting the front line by making sure that the backroom jobs that do that can be done more efficiently".
The Home Office also insisted private firms would not be able to make arrests, nor would they be solely responsible for investigating offences.
When the scheme was announced, the Association of Chief Police Officers (Acpo) said the only way to cope with the financial cuts was by "radical and fundamental change [which] will allow forces to cope with this and maintain protection of the public".
Police are facing 20% cuts to police budgets over four years.
West Midlands Police Authority faces budget cuts of £125m by 2015 and Surrey Police Authority needs to make savings of £28m over the same period.