Racing car maker Lola applies for administration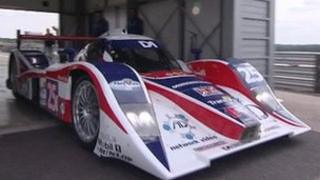 Race car maker Lola has applied for administration, blaming the economic downturn for a drop in trade.
The firm makes sports cars for track events, including Le Mans 24-hour race, and also offers research services to the defence and aerospace industries.
In a statement, it blamed government changes to the tax credit system for driving up costs.
The firm began trading in 1958, employs 172 people in Cambridgeshire and failed in a 2010 attempt to re-enter F1 racing
A new branch of the company, Lola Composites, was created recently to provide design and engineering services to the defence, aerospace, communications, renewable energy and automotive markets.
The Lola Group has not been able to secure an investor to take on the business, but will continue the search while an administrator is appointed in the next few days.
'Cashflow problem'
The firm also said the recent decision of HM Revenue and Customs "not to pay ongoing research and development tax credits" had contributed to a "serious cashflow problem".
It added that it was keen to secure the "best outcome for the staff, creditors and customers".
In recent years, the company has invested heavily in new technologies, including a wind tunnel and racing car test rig.
Jason Abelwhite, executive leader of Huntingdonshire District Council, has described the news "as a huge blow".
Lola's board has declined to comment further until 21 May.