Fuel tanker drivers at Hoyer vote against strike
8 May 2012

From the section

UK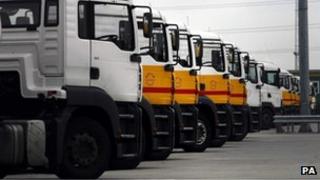 Re-balloted fuel tanker drivers have voted against strikes but in favour of other forms of industrial action.
Members of the Unite union at Hoyer voted again after some workers did not receive papers during the last ballot.
Union leaders said 57.5% voted for action short of a strike; the turnout was 79.5%.
Hoyer is one of six companies involved in a dispute over minimum standards in the industry which saw eight days of talks at conciliation service Acas.
Hoyer delivers petrol for Shell and Esso.
The union said a "significant minority" - 39.2% - were in favour of strike action in the ballot of more than 500 drivers.
'Vital industry'
Unite assistant general secretary Diana Holland said: "The vote in favour of action short of a strike demonstrates that deep concerns still remain in an increasingly insecure and unstable industry.
"Tanker drivers face a daily race to the bottom where contracts are chopped and changed.
"It is in everyone's interest to bring order to the chaos gripping a vital industry through the introduction of industry wide minimum standards.
"Members are currently taking part in a consultative ballot over proposals tabled through Acas. We will be announcing the result on Friday along with the next steps of our campaign to bring stability to the industry through the introduction of minimum standards."
Drivers at other companies in the dispute - including Wincanton, DHL, BP and Norbert Dentressangle - are being recommended to reject the proposals.
A spokesman for Hoyer said: "Hoyer is pleased that Unite members among its drivers have voted overwhelmingly to reject any strike action.
"This outcome is to the benefit of the company, its workforce and the country at large."
The government was criticised for advising motorists to store fuel in jerry cans after an initial vote in favour of strikes, followed by panic buying.