Malayan 'massacre' families seek UK inquiry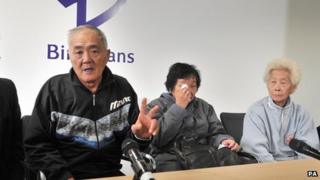 Malaysians seeking an inquiry into the 1948 killing of 24 villagers by UK troops say their relatives' deaths were "cold-blooded mass murder".
The alleged massacre at Batang Kali happened when Malaya was part of the British Empire.
The government's refusal to formally investigate is to be challenged in a judicial review hearing.
The British authorities at the time said the men were insurgents killed as they tried to escape.
Relatives of the dead are campaigning for a public inquiry and compensation.
The judicial review is to be held on Tuesday and Wednesday at the High Court, in London.
The killings by a platoon of Scots Guards occurred during the so-called Malayan Emergency, a communist-inspired revolt against the British authorities which lasted until the late 1950s.
Three of the surviving family members of the ethnic Chinese who were killed attended a press conference in London on Monday, including two who were present as children when the killings began.
Mock execution
Loh Ah Choi, 71, heard his uncle, who was the first to be killed, being shot three times.
"I would like the British government to apologise," Mr Loh said. "I was about seven years old."
Lim Ah Yin, 76, spoke of how the troops carried out a mock execution on her mother as they demanded information about the location of Communists.
Mrs Lim, who was 11 years old at the time, also heard the gunfire which killed her father.
"I hope this government give us fairness," she said. "Even as I recall the memory I still feel angry how these people were killed. There was no reason."
Some 30 to 40 women and children were transported to another location during the massacre, and it was a week before they were allowed to return to bury their relatives.
The third claimant at the press conference, Chong Koon Ying, 74, said: "The British soldiers didn't allow us to take our money and belongings. We were told to go on to the lorry. We had nothing. Only one set of clothes."
'Whitewash' claim
The BBC's legal correspondent Clive Coleman, who attended the conference, said the victims consider this to have been an act of cold-blooded mass murder.
There have already been two inquiries into the killings - one shortly after the events in 1948 and another in 1970.
Former Labour British Defence Secretary Denis Healey instructed Scotland Yard to create a special task team to investigate the matter, but the incoming Conservative government dropped it in 1970 due to a lack of evidence.
John Halford, a solicitor representing the claimants, said the reason for the termination of the inquiry would be revealed in the High Court hearing, which the families hope will lead to a public inquiry.
Relatives of the deceased say the previous two inquiries were a "whitewash" and that they have documentation, including testimonies from British soldiers, which contradicts this.
Mr Halford said there was a wealth of documentation that would form the basis of an inquiry.
"What happened at Batang Kali was an extremely serious human rights abuse on any view at all.
"It was a massacre of 24 unarmed people who weren't in any sense combatants, weren't offering any kind of threat to the British troops who killed them.
"That in itself is serious enough, but what then followed was a cover-up that has basically lasted the following 60 years to this day, where the British government has denied that anything untoward happened at all."
A Foreign and Commonwealth Office spokeswoman said: "This event happened over 60 years ago. Accounts of what happened conflict and virtually all the witnesses are dead.
"In these circumstances it is very unlikely that a public inquiry could come up with recommendations which would help to prevent any recurrence.
"The families of those who died have chosen to take legal action to challenge this decision and so it would be inappropriate to comment further now legal proceedings are under way."