Seven arrested over terror funding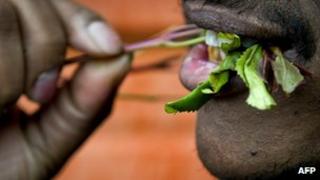 Seven people have been arrested on suspicion of funding overseas terrorism with money linked to smuggling of the stimulant khat.
The Metropolitan Police said six men and a woman were arrested in London, Coventry and Cardiff in early morning raids by counter-terrorism officers.
They are being held in custody at a police station in central London.
The arrests were part of an international probe into alleged terror fundraising and money-laundering.
The police arrested seven people at four homes for alleged offences under Section 40 of the Terrorism Act 2000 :
A 45-year-old woman and a 49-year-old man in Croydon
Two men aged 30 and 47 in Brent, north-west London
Two men aged 42 and 45 in Coventry
A 40-year-old man in Cardiff.
In a statement, Scotland Yard said the arrests were part of an investigation into a network suspected of illegally exporting the stimulant khat to the US and Canada.
Investigators from the US Department of Homeland Security have also been involved, said the Met.
The plant khat is used by some people from East Africa and is not banned in the UK - but it is a controlled substance in North America.
Scotland Yard officers led the planned arrests, assisted by counter-terrorism colleagues in regional forces and the UK Border Agency.
Police have searched another seven homes in London, Worthing and Coventry and a further business premises in the latter.
Khat is a relatively mild stimulant compared to other drugs circulating in the UK and is typically used by older men from the Horn of Africa.
In 2005, the Home Office's official drugs advisers concluded that "the evidence of harm resulting from khat use is not sufficient to recommend its control".
The UK served as a legal staging post for imports of Khat to other nations before it was controlled in North America and other European Union countries.