Madeleine McCann case not being reopened, Portuguese officials say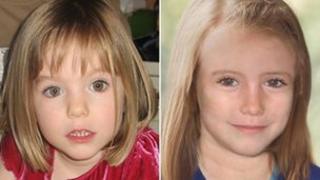 Portuguese authorities say they are not reopening their investigation into the disappearance of Madeleine McCann.
The attorney-general's office said this would only happen if there were "new, credible and relevant facts and not mere hypotheses or speculations".
But Portuguese police will re-examine elements of the inquiry after UK officers said they had identified 195 "investigative opportunities".
Madeleine, from Rothley, Leics, was nearly four when she vanished in 2007.
In a statement emailed to the BBC on Thursday, the attorney-general's office said: "The reopening of the so-called 'Maddie case' has not been ordered, so far.
"As it has always said, the public prosecutors office will only reopen the case if there are new, credible and relevant facts and not mere hypotheses or speculations."
Pedro do Carmo, deputy head of the criminal police department, told news agency AFP: "There are no new elements at the moment that would allow for the reopening of the inquiry."
Mr Do Carmo said that a team of investigators would "re-examine elements of the inquiry" in collaboration with the British police, but stressed that this was normal practice and did not constitute a reopening.
Portuguese police have received "no formal request for the reopening of the inquiry," he added.
'Hugely encouraged'
A British investigative review was set up last year, after Prime Minister David Cameron responded to a plea from Madeleine's parents Gerry and Kate.
Earlier, a spokesman for the McCanns told the BBC they had been "hugely encouraged" by new moves in the case.
Clarence Mitchell said Mrs McCann was "particularly pleased" with the strong family resemblance in a newly released age-progressed image of Madeleine.
The Metropolitan Police have been working in "close collaboration" with a senior investigating officer from Portugal's Policia Judiciaria.
They are compiling and reviewing material from three separate strands - the Portuguese investigation, inquiries by the UK law enforcement agencies, and the work of private investigators or agencies.
The Met said the objective of the team was to work with the Portuguese authorities with a view to having the case, closed since 2008, reopened in due course.
Mr Mitchell said Scotland Yard had said it was quite possible that the missing girl could "still be alive" but it was "up to the Portuguese authorities" to decide to re-investigate the case.
'Young girl now'
Speaking about the computer generated image issued on Wednesday, Mr Mitchell said: "We need to remind people around the world that this is probably what Madeleine looks like today, not the very famous picture of her when she went missing. This is Madeleine as a young girl now."
He also told BBC Breakfast that Mr and Mrs McCann were "coping as best they can".
Det Ch Insp Andy Redwood, who is leading the UK review, told the BBC's Panorama his team were "seeking to bring closure to the case".
Speaking to reporters ahead of the programme, he said he understood her disappearance was an abduction, mentioning 195 "investigative opportunities" which could advance the case, but police did not reveal what evidence they had to imply that Madeleine was still alive.
Mr Redwood said pan-European procedures were in place for action if a significant lead was discovered.
Mr Redwood's team of more than 30 officers has visited Portugal seven times and has returned to the holiday flat in Praia da Luz where Madeleine is believed to have disappeared.