Extradited Briton Christopher Tappin released on bail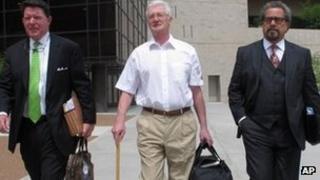 A Briton extradited to the US over allegations of arms dealing has been released on bail.
Retired businessman Christopher Tappin, 65, of Orpington, south London, had been held in jail in New Mexico after prosecutors said he was a flight risk.
His US lawyer, Kent Schaffer, said Mr Tappin was "very excited" to be freed as he awaits trial.
Mr Tappin, who denies trying to sell batteries for use in Iranian missiles, says he was the victim of an FBI sting.
The former Kent Golf Society president faces trial on offences which carry a sentence of up to 35 years in jail.
Bail was set at $1m (£620,000) at a court hearing on Monday, of which Mr Tappin's family had to post $50,000 (£31,000) up front. He was released from custody after a hearing at the federal court in El Paso, Texas on Wednesday.
Mr Tappin was told to surrender his passport and is restricted to travel only to El Paso and Houston, where he will stay with one of his lawyers.
Bail conditions also require him to wear an electronic tag and agree to have his emails monitored.
Mr Schaffer said on Wednesday: "We're on the way to the airport. The judge gave him conditions and they let him go.
"He's very excited to be out. We go back to Houston and we start preparing for the case. I would imagine some time in the fall [autumn]. He seems to be doing quite well."
Mr Tappin's extradition is one of a number of recent cases that have fuelled controversy surrounding the UK-US extradition treaty.
Critics say the treaty makes the extradition of British nationals easier than extraditing US nationals to the UK because the US authorities have to produce less evidence to support their case than their British counterparts.
But a review by senior judge Sir Scott Baker last year found the treaty was fair to British citizens.