Leveson Inquiry: Rupert Murdoch's witness statement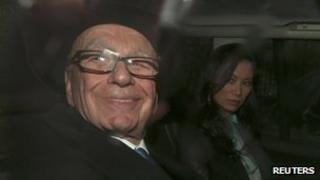 Rupert Murdoch's witness statement to the Leveson Inquiry has confirmed that News Corporation's Management and Standards Committee (MSC) is "actively" co-operating with US Justice Department's inquiries into "suspected illegality".
Reports have suggested that the FBI began to investigate News Corporation companies over claims of phone-hacking and illegal payments to officials in the past.
The written statement , dated 12 April 2012, was published as Mr Murdoch gave evidence on Wednesday.
The 53 page document states that: "Since July 2011, the MSC, working with a legal team, has actively co-operated with the Metropolitan Police as well as with the United States Department of Justice, turning over evidence of alleged or suspected illegality, and responding to all requests for information."
Mr Murdoch also said that co-operation with the Metropolitan Police regarding UK-based allegations into phone-hacking, is "continuing to date".
The statement goes on to say that while Mr Murdoch did not dictate an editorial stance or interfere with the work of his editors, he "participated actively in discussions about editorial matters and who should receive political endorsements".
Labour has said emails released to the inquiry on Tuesday show Culture Secretary Jeremy Hunt fell short in his impartial "quasi-judicial" role in ruling on News Corporation's bid to fully take over broadcaster BSkyB.
On his own dealings with Mr Hunt, Mr Murdoch said in his statement: "To the best of my recollection, I neither sought to discuss nor did I discuss the BSkyB proposal to make an offer with Jeremy Hunt, his junior ministers or political advisers."
Mr Murdoch's statement also shows he discussed with Education Secretary Michael Gove plans for News International to sponsor an academy school in Newham, east London in 2010.
Among other points, Mr Murdoch said:
He favoured the Iraq War based on the facts then available to him and that all of the editors at News International (NI) papers agreed with him
He has met a number of prime ministers, meetings "typically initiated by the prime ministers themselves"
He does not recall any specific prime minister specifically requesting the support of his newspapers
He discussed politics with Prime Minister Margaret Thatcher but did not discuss her government's regulation of his business interests
No agreement was reached with Prime Minister Tony Blair about exchanging editorial support for lax regulation of News Corporation
He has a good relationship with Scotland's First Minister Alex Salmond but Mr Salmond has not asked him for the political support of his newspapers
He is intrigued by the the idea of Scottish independence but NI titles do not endorse it editorially
Although the Scottish Sun backed the Scottish National Party in 2011, the paper is "neutral" on the idea of independence, and the Sunday Times supports greater fiscal autonomy but not independence
He was not aware aware of police interest in his newspapers' activities until the arrests of Glenn Mulcaire and Clive Goodman in August 2006
He had promised the Management and Standards Committee, set up by NI to investigate phone hacking and payments investigations, that he would "clean up" the phone-hacking problem at the News of the World
He launched the Sunday Sun in February 2012 to boost morale among employees who had questioned NI' s commitment to the newspaper
Mr Murdoch concluded his written statement by saying that his company had been his life's work and expressed his "strong sense of responsibility" for everything it does and has failed to do.