Final proposals in fuel tanker drivers' dispute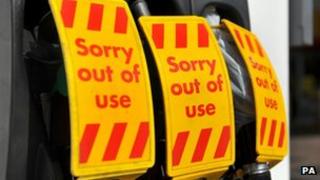 A final set of proposals has been drawn up in attempts to end the fuel tanker driver dispute, conciliation service Acas has said.
The Unite union has been given until 21 May to decide whether to accept the deal - removing the immediate threat of industrial action.
The development followed 12 hours of talks between the union and officials from distribution companies.
The row is over a number of issues including health and safety.
Acas chief conciliator Peter Harwood said: "Following a further two days of intensive discussions, a final set of proposals has been produced by the fuel distribution contractors and Unite.
"The industrial action mandate has been extended to 21 May to enable Unite to consult with its Oils Trade Conference and the membership on these proposals."
He said the details of the proposals were confidential until the parties reported back to their respective organisations.
He added that he hoped the proposals "will lead to a successful outcome".
A meeting of drivers' representatives is expected to be held in the next few days, probably followed by a ballot of union members.
The union representatives overwhelmingly turned down a previous proposed deal, leading to fresh talks this week with officials of six distribution companies.
Soldiers trained
A spokesman for the Department of Energy and Climate Change said: "It is encouraging that the parties have worked to produce a final set of proposals, and agreed to allow time for these to be put to the union membership.
"The government continues to believe that strike action would be wrong and unnecessary, and hopes that disruptive action is close to being averted."
Unite would have to give seven days' notice of any walkouts.
After the dispute flared up last month, one government minister advised motorists to top up their tanks with petrol and store fuel in jerry cans in case of any future strike action.
This was blamed for panic buying and some petrol stations temporarily running out of fuel.
The union has appealed to people not to panic buy or hoard fuel.
Prime Minister David Cameron suggested on Monday that enough Ministry of Defence personnel had been trained to ensure that at least 60% of the nation's fuel supplies could be provided in the event of a strike.