Extradited Briton Christopher Tappin granted bail in US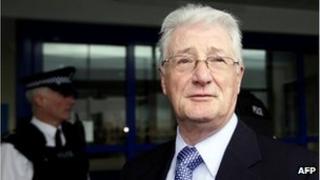 A Briton extradited to the US over allegations of arms dealing has been allowed bail by a Texas court.
Christopher Tappin, 65, of Orpington, south London, was extradited in February and held in jail after prosecutors said he was a flight risk.
Bail has now been set at $1m (£620,000), of which Mr Tappin's family must post $50,000 (£31,000) up front.
He denies trying to sell batteries for use in Iranian missiles. He says he was the victim of an FBI sting
His US lawyer Kent Schaffer said that Mr Tappin would be released from custody in New Mexico later this week.
He will then surrender his passport, and be restricted to travel only in Houston and El Paso, Texas.
Mr Tappin's wife Elaine, said she had not yet had the chance to speak to her husband, but plans to visit him as soon as possible.
"Chris has been unnecessarily locked up for over eight weeks in the middle of the New Mexico desert, abandoned by the authorities in his own country without even having had a chance to clear his name.
"At least now he can begin to examine the prosecution's case with his lawyers and prepare to challenge at trial the allegations which he denies," she added.
In a statement, Mrs Tappin also thanked the "invaluable" support of the public, many of whom she said have written to their MPs and the home office to demand action.
She added: "British citizens should not be packaged off thousands of miles away from home without having seen the evidence against them, without having been able to challenge the decision on jurisdiction for trial in the British courts."
The retired businessman's extradition is one of a number of recent cases that have fuelled controversy surrounding the UK-US extradition treaty.
Critics say the treaty makes the extradition of British nationals easier than extraditing US nationals because the US authorities have to produce less evidence to support their case than their British counterparts.
But a review by senior judge Sir Scott Baker last year found the treaty was fair to British citizens.
During a visit to the US last month, Prime Minister David Cameron said he wanted to review the working of the extradition arrangements and raised the issue in talks with President Barack Obama.
Mr Tappin, a former president of the Kent Golf Society, faces a trial on offences which carry a sentence of up to 35 years in jail.
British judges say the extradition is lawful and the European Court of Human Rights in Strasbourg has refused to intervene.