Adis Medunjanin al-Qaeda terror trial told of UK links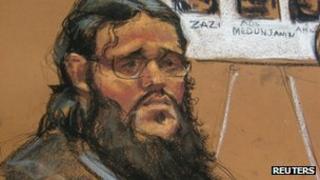 A US terror trial has this week been told about UK links to a 2009 New York subway suicide bomb plot and has heard how a British militant allegedly instructed three men to attack America.
The connections were revealed in the trial of Adis Medunjanin, a 27-year-old Bosnian-born US citizen, who denies involvement in the plot.
He stands accused of joining two other men in planning "to strap bombs to their bodies and walk into crowded New York City subway cars that were filled with innocent people".
Zarein Ahmedzay and Najibullah Zazi were both jailed in 2010 after admitting their part in the foiled plot. Both have testified against Mr Medunjanin in the trial, which began earlier this week.
The Brooklyn court heard how the late Rashid Rauf, believed to have been the head of external operations for al-Qaeda, allegedly met the men in Pakistan in 2008.
Rauf, originally from Birmingham, is believed to have been killed in a US drone attack in Pakistan in November of that year, a short time after the men were arrested.
The trial has revealed fascinating details of young Western Muslims travelling to South Asia to receive training from al-Qaeda.
Terror training
The court heard how Mr Medunjanin, Zazi and Ahmedzay travelled from New York to Waziristan, in Pakistan, in 2008.
The trial was told they had tried, but failed, to enter Afghanistan to fight coalition forces but, according to the testimony of two of the men, they made contact with members of al-Qaeda in Pakistan.
Ahmedzay described how they went to a guest house in the town of Miranshah, in North Waziristan, where he said they met two men who were carrying AK-47 rifles.
He told the court one of the men, in his mid-30s, had long hair, called himself Ibrahim and spoke in English.
The jury heard that "Ibrahim" told the men who would take them for terror training.
He also said he "preferred us to go back to the US for an operation in the US", Ahmedzay added, saying he understood this to mean a suicide attack.
Pakistan arrest
Ahmedzay was shown a photograph of Rashid Rauf whom he identified as "Ibrahim".
Rauf has been linked to a number of al-Qaeda plots, including an attempt to launch simultaneous suicide bombings onboard aircraft travelling from London Heathrow to North America in the summer of 2006.
He was arrested in Pakistan in connection with this plot but escaped.
The jury in Brooklyn was told that the men were taken to a mud-walled compound where they practised firing rocket launchers.
They were allegedly shown a martyrdom video recorded by Mohammed Siddique Khan, one of four men behind the suicide bombings on the London Underground in July 2005.
Ahmedzay said his trainers had told him the 7/7 bombings had been "one of their operations".
The men also listened to recorded sermons by the extremist cleric Abdullah el-Faisal, who was convicted by a British court of stirring up racial hatred and later deported from the UK.
Ahmedzay said the recordings were shown to "convince us to accept the suicide operation" in the US.
Having accepted the mission, the court heard how the men discussed targets in New York.
Ahmedzay used his job as a taxi driver in the city to scout locations.
The court heard how they planned to attack in rush hour in September 2009 during the Muslim holy month of Ramadan.
In his testimony, Zazi told the court he had been trained to use explosives in Pakistan.
His trainer explained how the detonator he was teaching him to build was similar to that used in the 7/7 bombings.
But Mr Medunjanin's lawyer, Robert Gottlieb, meanwhile, told jurors not to trust the testimonies of Zazi and Ahmedzay.
He said the government was going to "stand up" before them and ask them to believe "that these two terrorists" would not tell a lie.
Bin Laden 'interaction'
Mr Gottlieb said his client had "never received military training at an al-Qaeda training camp" and had decided he would not take part in a suicide attack in America.
He had moved there with his family from Bosnia as a child.
On Thursday, the court was played a video of Saajid Badat being cross-examined.
The jury heard how Badat, who is from Gloucester, had pleaded guilty in Britain to a plot to use a bomb hidden in his shoe to blow up a transatlantic aircraft.
It is the first time a terrorist convicted in the UK has testified at a terror trial abroad though Badat explained that he had refused to travel to the US to testify because "I know that upon arrival in the United States I would be arrested".
On Monday, British prosecutors revealed details of a secret deal in which Badat's 13-year sentence had been reduced by two years in exchange for his co-operation with the authorities in this and possibly other trials.
Badat told the court in Brooklyn he had first travelled to Afghanistan in 1999 to get terrorism training. He was asked: "Did you have direct interactions yourself with Osama Bin Laden?"
"Yes," he replied, saying it had happened more than once.
Badat, the British-born son of Malawi immigrants, returned to Britain in December 2001. He stashed the shoe-bomb under a bed in his family home and later told authorities he had backed out of the plan. His evidence will continue on Monday.