Will Abu Qatada be released?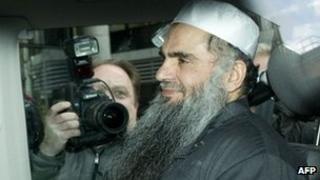 Is Abu Qatada about to walk out of jail, days after being rearrested?
Late on Thursday, the Special Immigration Appeals Commission, the court that deals with national security deportations, published Mr Justice Mitting's decision to revoke the radical cleric's bail.
But the final paragraph warned that even though the preacher is back behind bars, he might have to be released within three weeks. So what exactly is going on?
Home Secretary Theresa May ordered the re-arrest of Abu Qatada on Tuesday morning on the basis that, finally, he faced an imminent deportation to Jordan. If he was not detained, he might have tried to abscond.
The Home Office was claiming that deportation was imminent because it thought that the European Court case was now closed. It had an assurance from Jordan that Abu Qatada would get a fair trial - Strasbourg's last remaining requirement.
That all changed when it emerged that Abu Qatada had lodged a very late appeal to the European Court's Grand Chamber. He argued that judges had been wrong to decide he would not be at risk of torture in Jordan. Both the UK's and the European Court's judges have rejected that argument - but the appeal means the legal block on deportation remains in force.
Abu Qatada's 11th hour appeal came hours after he appeared at the Special Immigration Appeals Commission to hear the home secretary outline her case for his swift deportation.
In his judgement, Mr Justice Mitting said that detention was clearly justified because things were now moving apace.
Back in February, Mr Justice Mitting bailed Abu Qatada because the home secretary could no longer show that she was on track to remove him any time soon.
Home secretaries can detain someone before deportation for a reasonable period providing they genuinely intend to get on with it and - critically - it's realistically achievable.
In other words, Theresa May can't just detain someone that she hopes (with fingers crossed) she can stick on a plane.
January's European Court judgement blocking deportation had led Mr Justice Mitting to rule that the deportation had become uncertain - and so detention was wrong.
Fast forward to this week. Home Office lawyers went back to Siac with the preacher sitting in the dock. They declared that the deportation was, once more, a realistic possibility.
So, in the judge's words, a "long period of uncertainty" had ended because deportation was arguably "imminent".
He added: "If the deportation [of Abu Qatada] is imminent, if the secretary of state is able to fulfill her declared intention, then, in my judgment, the risk that he will abscond has significantly increased [and therefore he should be detained].
"I reach that judgment not because of any breach by him of his bail conditions, none is alleged - there is no evidence of any - but because of the declarations made by others who may have the capacity and will to assist him to do so."
Special power
Now, here's the really interesting - and arguably ingenious - bit. The home secretary could potentially get rid of the cleric by the end of April under a special power to shortcut the legal process.
Section 94 of the Nationality, Immigration and Asylum 2002 was devised to get rid of people who the government considers to be legal time-wasters - appelants with no human rights claim to stay in the UK.
The home secretary's lawyers argued that given the European case was done and the UK had obtained the all-important assurance on fair trial in Jordan (which was all that Strasbourg had asked for), Section 94 could be used to prevent further challenges.
Mrs May could, within days "certify" that a further challenge was "clearly unfounded" and that Abu Qatada should be deported.
He could try to challenge that the legality of that certification, but judges would only be considering this issue and not the deportation order itself. And that's why the Home Office believed the deportation could happen quickly.
Mr Justice Mitting said: "If the parties act with great speed, it is possible that this very long-running saga can be brought to a rapid and conclusive end within, at most, a matter of a very few weeks."
So the entire legal strategy, devised in utmost secrecy by senior government lawyers, was to act with daring speed to remove the cleric once the European Court's deadline had passed.
The timescale the home secretary gave MPs was slightly more cautious - she talked of months - but compared to most national security deportations, it would feel like greased lightning.
The plan convinced Siac to detain the cleric once more.
But in his final paragraph, the judge warned: "If it is obvious after two or three weeks have elapsed that deportation is not imminent, either because the secretary of state has not certified or because, having done so, a certificate is struck down by the [High Court], then I will reconsider bail..."
That's the problem Theresa May now has.
Mr Justice Mitting gave the benefit of the doubt to the Home Secretary, setting out the steps she had to take to continue to convince the court that detention was justified. But all of that was based on the premise that there could be no more complex appeals - to either Strasbourg or the British courts.
If the European Court decides that the cleric's appeal was in time and they refer the case to the Grand Chamber for a final review, the Home Office plan crumbles. There would be new legal delays and uncertainty.
And that's Siac may conclude that it has no choice but to release the cleric - yet again.