Abu Qatada: Government will try to block bail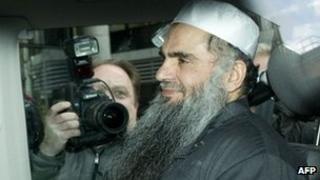 The government will resist any application for bail by radical cleric Abu Qatada, Downing Street has said.
"If he applies for bail, we will oppose it vigorously," a spokeswoman said.
Home Secretary Theresa May insisted on Thursday that Abu Qatada's deportation case had "no right" to be referred to the European Court of Human Rights.
Abu Qatada, a Palestinian-Jordanian preacher, is wanted in Jordan on bomb plotting charges but the ECHR is yet to decide whether to hear the case.
Shadow home secretary Yvette Cooper said: "The idea that Abu Qatada could be back on the streets of London within weeks, if not days, as a result of the Home Secretary's decision is shocking.
"Theresa May has told us herself how dangerous she believes this man to be, yet now her own shambles could be what gets him out of jail," she added.
No comment
Mrs May ignored journalists who sought to ask her questions as she left a conference in central London on Friday morning.
Mr Justice Mitting, the British special immigration appeals commission (Siac) judge, returned Abu Qatada to jail this week after a hearing found deportation was imminent and the chance of him trying to abscond had increased.
But in his written judgment he said if it was "obvious" in two or three weeks that deportation was "not imminent" he would reconsider bail.
Ministers believe the three-month deadline for appealing against the ECHR ruling passed on Monday night. On Tuesday Mrs May told MPs she had received fresh guarantees from Jordan that Abu Qatada would face a fair trial so he could now be deported.
But on Wednesday the court said it had received a request for an appeal at 22:00 BST on Tuesday, which it said was before the deadline.
The deportation process cannot begin until a panel of judges has decided whether the case should go to the Grand Chamber of the court.
The ECHR originally blocked Abu Qatada's deportation to Jordan on 17 January.
'Screw-up'
On Friday a Downing Street spokesman was asked if the Prime Minister David Cameron had full confidence in the home secretary. The reply was: "Yes."
Asked if Mr Cameron had confidence that Abu Qatada would be deported, he said: "It is our firm intention to see him deported."
Tim Farron MP, president of the Liberal Democrats, told the BBC's Question Time programme: "I take the view that there's an Olympic-standard screw-up somewhere here, whether it's with the European Court, or it's Theresa May or with her officials."
He added: "What I'm absolutely certain of is that Abu Qatada should be deported. He should be on a plane as soon as possible."