Hague pressured over death of Neil Heywood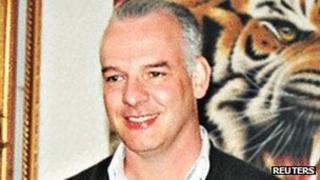 Pressure is mounting on the Foreign Secretary William Hague to explain why Britain did not intervene sooner over the death of a businessman in China.
The Foreign Affairs Select Committee has written to Mr Hague to find out why MPs were not immediately told of suspicious circumstances surrounding Neil Heywood's death.
The letter asks if Mr Heywood supplied information to the British Consulate.
Mr Hague has previously insisted Mr Heywood's case was correctly handled.
The 41-year-old consultant was found dead in a hotel room in Chongqing, south-western China, on 15 November.
Chinese officials initially told British consular officials that Heywood had died of "excessive alcohol consumption" but after friends raised doubts, the UK government asked the Chinese authorities to reopen the investigation.
Gu Kailai, the wife of disgraced Communist Party official Bo Xilai, is currently being held on suspicion of his murder.
Passing information
The letter, signed by committee chairman Richard Ottaway, demands to know why ministers were not told of Mr Heywood's alleged murder when rumours first surfaced.
The MPs say that on 18 January Foreign Office officials were made aware of rumours Mr Heywood's death may not have been due to alcohol poisoning.
But ministers say they were only told of Mr Heywood's case after the chief of police, Wang Lijun, spoke to the US Consulate in Chengdu on 6 February.
"Why were earlier rumours about Mr Heywood's death, which reached FCO staff in January, not communicated to ministers immediately?," the letter asks.
The UK subsequently asked China to investigate the death, which it has promised to do.
The letter also raises questions about whether Mr Heywood had passed information to British officials in China.
Mr Ottoway writes: "Did [Mr Heywoood] supply the British Consulate or Embassy with information, either on a formal or informal basis?".
The Briton was a friend of the family of Bo Xilai, a former rising star in Chinese politics who served as local party chief in Chongqing.
Mr Bo was suspended from the Politburo in April amid allegations of "serious discipline violations".
Neil Heywood had lived in China for 10 years and spoke fluent Mandarin.