London 2012: More 2012 Olympic sport for cable viewers
18 April 2012

From the section

UK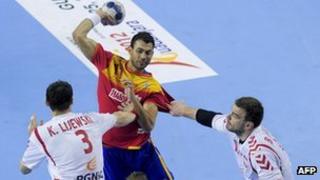 Cable provider Virgin Media will provide its subscribers with 24 live streams of Olympic action from the BBC and Eurosport during the 2012 Games.
The streams will be available in both standard and high definition at no extra cost while the provider will also carry 3D broadcasts when they occur.
It was announced earlier this month that Sky and Freesat viewers would also have access to the 24 live channels.
However this does not affect the BBC's position as host nation broadcaster.
As Roger Mosey, BBC Director of 2012, explained earlier this month in his blog: "Just to underline - this is a distribution agreement... and it's not about sharing the broadcast rights which remain with the BBC within the UK.
"This is no different from existing BBC channels being on Sky, Virgin, Freesat and BT Vision. But clearly we're delighted by the ability to get BBC channels to as many people as possible on the device of their choosing."
All 24 live channels will also be available to watch on the BBC's 2012 and Sport websites.
The London 2012 Olympics start on 27 July and finish on 12 August.