Caroline Spelman's son given rugby drugs ban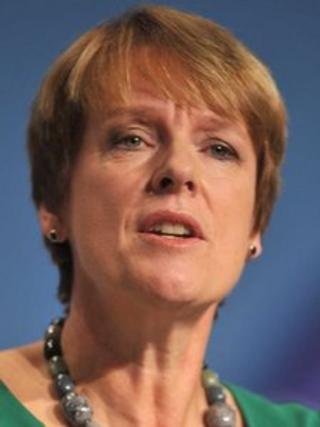 The son of Environment Secretary Caroline Spelman has been suspended from playing rugby for 21 months by the Rugby Football Union (RFU), after he admitted taking banned substances.
Jonathan Spelman, 17, cannot play in any match until 19 October 2013.
The former England under-16 player admitted taking performance-enhancing drugs at a disciplinary tribunal in March.
Mrs Spelman said her son "remains very sorry for his mistakes".
Jonathan Spelman had admitted taking a number of performance-enhancing drugs, including anabolic steroids and a growth hormone.
The family has lodged an appeal against his suspension.
Privacy row
In February, the Spelman family attempted to prevent details of the case being published through a High Court injunction.
They were originally granted a privacy order against the publication of sensitive personal information, after news of the tribunal was leaked to the Daily Star Sunday.
But on 24 February, a second judge, Mr Justice Tugendhat, concluded it was "not necessary or proportionate" to continue the injunction.
The court heard that the family had already spent nearly £61,000 on legal costs.
'Deeply sorry'
In a joint statement issued in February, Mrs Spelman and her husband said their son had taken the drugs to speed up his recovery from injury.
"Our son, who was then aged 16, was injured in September 2011 and took some widely available drugs to aid his recovery," they said.
"The substances are, however, banned under anti-doping rules.
"Our son knows that taking a banned substance can never, ever be right and he is deeply sorry for the mistakes he has made."
Panel chairman Christopher Quinlan QC said Mr Spelman's youth, immaturity and his admission had been taken into account when fixing the ban, which could have lasted for up to two years.
Mrs Spelman is the Conservative MP for Meriden in the West Midlands.