Hidden insurance fees hitting consumers, says Which?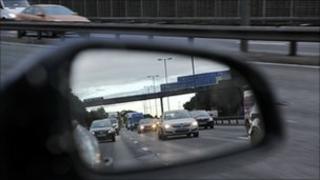 Drivers and homeowners are being hit with "exorbitant hidden fees" for basic insurance policy changes and renewals, the consumer group Which? has revealed.
The watchdog uncovered costs of up to £30 for simple alterations - such as changes of address and vehicle, and updating personal information.
Customers are also being charged for cancelling and renewing their policies.
But insurers say the industry is "committed" to keeping prices "as low as possible".
The data came from a review of the terms and conditions on the websites of 39 car, and 34 home insurers.
In the report - which appears in the May edition of its magazine - Which? criticises home and car insurers who "appear to be taking consumers for a ride" by failing to make charges clear and accessible.
It found "many insurers" did not publish details of fees on their websites - "making it near impossible for prospective customers to make an informed choice or compare like for like".
In particular, the report says some insurance companies - such as Axa and Swiftcover - charge a flat fee of £30 to clients only wishing to update their address, married surname, or vehicle covered.
Which? also found a number of insurers charging "excessive amounts of interest" to customers paying in instalments instead of upfront.
'Disgraceful'
Sarah Bailey, from the Association of British Insurers, said it was important for customers to "understand what they are buying" and "read the policy carefully".
"There can be a balance between a lower overall price and higher charge for a change."
She also said paying by instalments cost insurers money because it reflected an "increased financial risk", adding there was "evidence to suggest that those customers choosing not to pay in full for their policy upfront are more likely to make a claim".
"Insurers are committed to keeping administration costs as low as possible, but where they do incur costs that they cannot absorb then these may have to be passed on to customers," she said.
But Which? chief executive, Peter Vicary-Smith, criticised a lack of transparency from insurers: "It's a disgrace that insurers charge exorbitant fees to make basic changes to a policy.
"These charges should reflect the real cost to the company and not be a way of making easy money from consumers who are already struggling with high and rising insurance premiums."
"We want insurance companies to be clearer about the fees that they charge and stop hiding the details away in pages of terms and conditions," he added.
He also urged the new industry regulator - the Financial Conduct Authority - to "ensure that any charges reflect the actual cost incurred by the insurance provider".
The insurance company Swiftcover also commented on the findings: "When it comes to swiftcover.com and 'hidden charges', as Which? puts it, they have simply got it wrong.
"Swiftcover.com has always been an online-only insurer, allowing customers to change their policy online whenever they wish, and as often as they need to - without charge.
"If, however, a policyholder chooses to update their policy by speaking to the help desk, there is an admin charge of £30, like with many other insurers."
A spokeswoman for Axa said: "Both Axa's and Swiftcover's home and motor policies are sold 100% online, and if your circumstances change (for example, you move house or need to add a second driver), you can update your details online and at a time that suits you, at no charge".