Met Police denies terror line hacker claims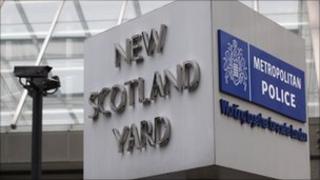 The Met Police has denied claims its anti-terrorist hotline was hacked, after recordings were posted online.
Hacking group Team Poison posted recordings to YouTube which appeared to show them speaking to the hotline, plus officers discussing operations.
The force said the recordings had not come from an attack on internal systems, but were made from the receiving handset.
The investigation is unrelated to the ongoing probes into News International.
It is thought the group called the hotline 700 times. On the recording posted to YouTube the caller, who calls himself "Trick" from Team Poison says: "You're being phone bombed now mate".
"Trick" is later heard laughing when he is told the phone call is being passed on to the FBI.
Systems secure
One of the recordings uploaded to YouTube by Team Poison appears to be four-minute recording of anti-terror officers discussing operations.
One officer can be heard saying that the hotline had been subject to about 700 phone calls "from a group known as TeamPoison".
Earlier, Scotland Yard said hackers had made recordings of their own calls to the hotline, also recording conversations between Met Police and hotline staff.
But later Ailsa Beaton, director of information at Scotland Yard, said she was satisfied there was no attack on internal systems.
"We have throughout the day researched the allegation that the anti-terrorist hotline had been "hacked" and activists' claims that they were able to listen unrestricted to confidential communications," she said.
"We are confident the MPS communication systems have not been breached and remain, as they always have been, secure.
"We are satisfied that any recording would have been made via the receiving handset only and not from an attack on internal systems.
"The public can remain confident in the ability to communicate in confidence and that the integrity of the Anti-Terrorist Hotline remains in place."
In an email to the Press Association news agency, the group's leader Trick said they had repeatedly called MI6 offices in London using a program called Asterisk which acts as a DIY phone exchange.
It is thought the approach is an example of hacking used as petty vandalism rather than to steal information.