Why water firms can't say no to supplying new housing developments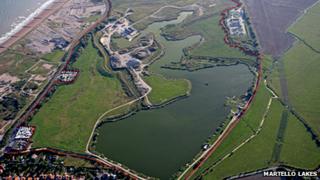 England's population is forecast to grow by nearly 10m by 2035 with the south-east the likely home for many - a region where the water supply is under severe pressure. However, water companies are legally bound to supply new developments even when there are concerns about sustainability.
The Martello Lakes development in Kent sits west of Hythe sandwiched between the North Downs and the English Channel.
This huge site, which used to be a quarry, is now being levelled by bulldozers preparing the land for construction.
In 2010 Shepway District Council granted planning permission for more than 1,000 homes at Martello Lakes - part of the council's plan to bring around 8,000 new dwellings to the area by 2035.
Legal obligation
This part of Kent also happens to be one of the driest areas in England.
In fact, the local water company - Veolia Water Southeast - was the first to apply for, and be granted, an "Area of Water Scarcity" status in 2006. It allowed the introduction of compulsory water metering in homes in the local area.
However, this did not deter Shepway council from giving the Martello Lakes project the go-ahead.
"We talked very closely with Veolia about how we would deal with water measures for the development, and they are satisfied that the supply and demand for water can be met," says Chris Lewis, the head of planning for Shepway District Council.
"They haven't raised any objection to Martello Lakes or our future policies," he explains, speaking to Radio 4's The Report .
Richard Knox-Johnstone from the Protect Kent group, part of the Campaign to Protect Rural England, believes the council has behaved irresponsibly in granting planning permission.
"This is a water scarcity area and the council knew that before they gave planning permission," he said.
"We have experts who say they can't provide the water but Veolia will say they can supply the water because they have to by law."
And this is the bind water companies find themselves in. They simply cannot say no to new housing developments, even when water supplies are low.
"We can certainly express concern," explains Veolia Water Southeast general manager Chris Taylor, "however the fundamental issue is that we have a statutory responsibility to meet those future demands".
Veolia Water Southeast has discussed - and agreed to supply - the planned developments with Shepway District Council.
"We need to consider if there is enough water, and if we can get it to the development, and we have assured the council we can provide on both", adds Mr Taylor.
"But I think the thing that is important to understand is that as a water company we have a legal obligation to connect all new developments."
New planning rules
So is there an opportunity during the planning process for a water company to say a development will not be sustainable?
The environment secretary Caroline Spelman says changes made by the Coalition government to planning rules will mean water resources will be taken into account.
She says: "When you look at a planning application, one of the questions you will now have to ask is 'is it sustainable to build those homes there?' And part of the question about sustainability is 'is there an adequate water supply?'"
But the change in the rules does not affect water companies' legal obligation to provide water to new homes.
"That remains," says the environment secretary, "although the decision about the planning application can be approved or blocked on the question of sustainability, and that is where the water company will have more influence."
So if a planning application is approved, water companies will still have to guarantee a connection to a water supply.
With nearly 20 million people across a swathe of England currently experiencing water restrictions, that might be hard to understand.
But do we want to give water companies the power to effectively veto local development plans?
In Sussex and Kent over half a million homes could be built by 2026 - and with a rising population they will be needed.
In its recent Water White Paper the government reports that, in the future, drought conditions are likely to be more common.
The worst-case scenario laid out in the paper is that we might have 10 times as many significant droughts by the year 2100 - and the south-east is especially vulnerable.
Rethinking future developments
Michael Norton, chair of the Water Expert Panel at the Institution of Civil Engineers, thinks development plans should be reconsidered.
"We established a tradition of focusing development in the south-east, but looking at it purely from a point view of water availability, it makes little sense," he says.
"It could be argued that perhaps we should be moving some of our nodes of development into areas that are more water-rich, such as Wales, northern England and Scotland," he adds.
That would be dramatic.
Mrs Spelman, argues that new-builds can be made much more water-efficient.
"We use drinking water for everything in our homes - flushing the toilet, everything. If you go to dry countries and tell people that, they are quite astonished.
"When you build new homes you can re-engineer them," she argues. "You can use grey water systems for some household jobs. So this makes less call on the drinking water supply."
These are important, long-term concerns.
Right now the fear is we could be heading for a third dry winter and in 2013 that could mean Emergency Drought Orders - stand-pipes in our streets; water for only a few hours a day.
"A third dry winter would be unprecedented because it would be a more severe drought than we experienced in 1976," Mrs Spelman says.
"I think emergency drought orders are unlikely in 2012. But if we had no significant rainfall from now right through to next winter, they would be more likely."
That is a grim prospect.
Meanwhile, at Martello Lakes, Kent Shepway District Council's head of planning Chris Lewis gave assurances that the construction work will continue, in spite of concerns about local reserves of water.
"We are confident the plans are deliverable, and the developer is putting investment into the site," he says.
"It's not a question of the council revoking planning permission - that's not on the agenda at all."
Listen again to The Report on BBC Radio 4 via the Radio 4 website or download The Report podcast.