Recall for Sanyo microwave ovens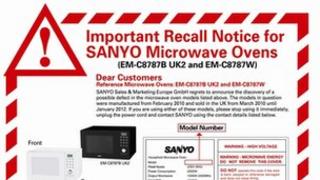 Thousands of Sanyo microwave ovens have been recalled over fears they could cause severe electric shocks.
The affected microwaves have the model numbers EM-C8787B UK2 (a black colour) or EM-C8787W (a white colour).
The company said owners should stop using them immediately and unplug them from the wall.
Sanyo said 8,156 of the machines were sold in the UK and Ireland between March 2010 to halfway through this month.
The problem is believed to have been caused by some of the printed circuit boards within the internal control panel having electrical contact with the small buttons on the external control panel.
A free phone line has been set up to take calls from those concerned about their microwaves and refunds would be given, the company said.
All other Sanyo microwaves could be used without concern, it added.