Drink or drug-driving crackdown sees 7,200 arrested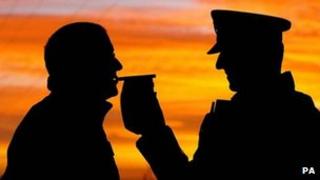 More than 7,200 people in England and Wales were arrested during the Christmas crackdown on drink and drug drivers, figures show.
Nearly 157,000 people were tested between December 1 and January 1.
The Association of Chief Police Officers (Acpo) says young drivers had a higher rate of offending at 5.7%, compared with 4% of over-25s.
Safety campaigners say the data shows warnings about drink and drug-driving are not working.
AA president Edmund King said he had hoped that positive tests across the UK would be lower this year but admitted the weather had played a part in previous figures.
He said: "We were worried that the absence of the snow and ice, which had kept many people at home around Christmas in the last two years, would lead to an increase.
"For the last two years it has been a simple case that people who can't go out can't drink and drive."
Officers from 43 forces in England and Wales tested drivers at all times of the day and night.
Deputy Chief Constable of Northamptonshire Police Suzette Davenport, who is Acpo lead for roads policing, said the consequences of drink and drug-driving were far-reaching.
She said: "It's not only socially irresponsible but it raises serious issues for those that ignore the risks.
"Those convicted are likely to face a lengthy driving ban and possible loss of jobs and livelihoods, with some even facing imprisonment."
Confusion
This year police forces undertook intelligence-led testing. The result was that a larger percentage of the smaller sample of drivers tested failed the test.
DCC Davenport said there was a demonstrable link between drink and drug-driving and accident.
She said: "Again, like previous years, results show that if you drive whilst under the influence, you are at greater risk of being involved in a collision.
"Of people tested after a collision, 7% were found to be under the influence compared with 4.1% for routine tests."
Neil Greig, of the Institute of Advanced Motorists (IAM), said it was worrying that so many young drivers continued to be the worst offenders.
"Our research shows that half of young drivers don't know how much they can drink and still be under the limit, so the message is not getting through to them," he said.
"This suggests that lack of education and confusion over safe limits in today's drinking culture of huge glasses and ever-changing alcoholic mixes may be a key factor in drink-driving, especially for this age group."
"Unacceptable"
DCC Davenport said police, government, parents and society as a whole had a role in educating new drivers.
She added that there was no safe limit on drinking and driving.
"Even just the one drink can significantly impair your judgement and for that reason I recommend drivers don't drink alcohol and drive.
"Driving under the influence of any substance, whether it is alcohol or drugs, is unacceptable."
In Northern Ireland police arrested 408 motorists for drink-driving as part of their winter anti-drink-drive operation.
The figure was 44 more than the same period last year.
Scotland saw 478 reports for drink driving during the seasonal crackdown - up from 426 last year.
Overall there were 36 reports for drug-driving throughout the campaign - up from 25.