London 2012: Olympic Route Network - Greenwich dog trainer's fears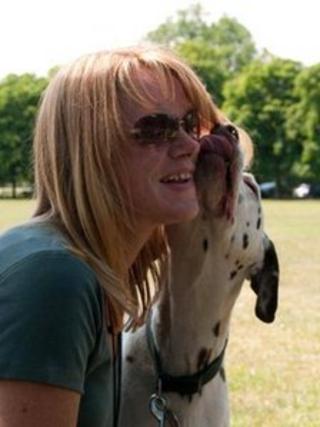 Greenwich-based dog trainer Simone Day says her livelihood will be under threat during London 2012 as traffic restrictions mean she will not be able to get to clients.
"I live within a mile of Greenwich Park and on a major route for the Equestrian events which are taking place there.
I grew up on a horse farm and competed on a national level in Canada so I'm gutted I didn't get any tickets for them. It's worse that my six-year-old daughter's doing a project promoting the Olympics!
The restrictions on the Olympic Route Network will apply from two days before the Games until two days after.
We're going to be losing the whole park and a huge chunk of the common on Blackheath - dog walkers are going to suffer, and children will lose their play areas during a holiday period.
Recent planning meetings have suggested there would be parking restrictions within 400m of the venue but I'm not sure what it's going to be like on or near the ORN.
I'm not going to be able to carry out my normal day-to-day business because I require a car and the ability to park to get to my clients. With the restrictions and the road closures and the problems that that's going to create, it's going to be impossible for me to get around on a timely basis.
During the test event when they simply had the road that runs down through the middle of Greenwich Park closed, my normal journey down to a client in Greenwich town centre tripled from 15 minutes to 45 minutes. If one lane of the Blackwall tunnel is taken out of use due to an accident, it causes major delays.
Why Greenwich?
Being based here, with the planned lane closures south-east London is going to gridlock. Every road around me is going to be restricted, if not closed off at certain times. I don't think I'm going to be able to get from A to B.
Basically my livelihood is going to be gone over those periods because I won't be able to get to clients. If I can't get to my clients I can't do my job and therefore I make no money.
Information about the restrictions is hard to find, and it's not very specific - there seems an awful lot that still hasn't been decided.
As a business, how do you then plan around that? There's limited information on Greenwich Council's website - there have been Olympic organising meetings with the council but they're not advertised well.
There's been no information sent to businesses. It's often word-of-mouth that spreads news of consultation meetings but it's difficult for me to attend those because I'm a single parent running my own business.
I'm so against what's going on in our community to make the Olympics happen that I simply can't get excited about it.
It's sad to see that local communities are going to suffer.
It's all very well for the government to tell us to make the most of business opportunities offered by the number of people coming to the Olympics. That might work for restaurants and hotels, but who's going to bring their dog to be trained?
And why Greenwich? We have many world-class venues like Windsor that would be more suitable and that could be developed to leave a legacy for youngsters coming up in the sport.
In Greenwich Park the venue is all being torn down afterwards - we're going to damage a world heritage site for the benefit of a good backdrop for the cameras."