Newspaper review: McCanns' testimony leaves its mark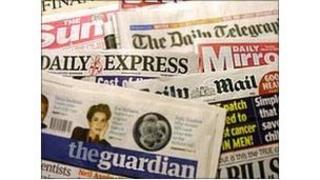 The powerful testimony by the parents of missing Madeleine McCann at the inquiry into newspaper standards leads several of Thursday's front pages.
"I feel violated by the press" is the Times headline, quoting Kate McCann.
The Guardian says the McCanns made an impassioned plea for press regulation, describing some of the stories published about them and their daughter as "disgusting" and "offensive".
After two hours of evidence, the paper believes the Leveson Inquiry had heard "the most powerful testimony so far".
'Enemies of the state'
The Independent highlights a report which says up to 7,000 people declared to be "enemies of the state" are being illegally held by militias in Libya.
It says women and children are among those in private jails. A comment piece says "this was always a civil war, and the victors are not merciful".
The Daily Telegraph looks back fondly on 40 years of BBC show Newsround, which is to be honoured with a Bafta.
The award will be collected by John Craven, presenter from 1972 to 1989.
'I'm not sorry'
The Daily Express and Daily Mirror are outraged by the attitude of a 16-year-old burglar, forced to write to his victim as part of his punishment.
Rather than showing remorse in the letter - intercepted and never sent - he says he is "not bothered" and berates the owners of the house he broke into.
He lists "dumb mistakes" made by his victim, including being "thick enough" to leave a downstairs window open.
The Sun says it is "a shocking glimpse into the state of our society".
Sleep on it
The Daily Mail reports on a study that suggests sleeping on a problem leads to people feeling better the next morning.
Researchers in the US found dreams act as a "soothing balm". Or, as the Mail puts it, "when the going gets tough, the tough have a lie in".
Under the headline "the decline of good manners", the Daily Express says millions of Britons have stopped saying a good old fashioned "thank you".
It says a growing number of people are replacing it with "cheers", "ta", "cool", "nice one" or - heaven forbid says the paper - "merci" or "gracias".