Newspaper review: Papers reflect on Leveson Inquiry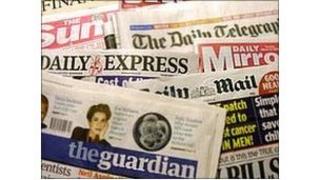 Images of Milly Dowler's family appear on many of the front pages, as the Leveson Inquiry into press ethics dominates Tuesday's newspapers.
The Independent says the "psychological trauma" caused by phone hacking was laid bare as the parents of the murdered schoolgirl gave evidence.
The Guardian says they were a "level-headed credit" to middle Britain.
Ann Treneman, in the Times, writes that they took British understatement to a new level.
'Extraordinary claims'
Meanwhile, the Guardian and the Times choose to put actor Hugh Grant, pictured leaving the High Court after the hearing, on their front pages.
The Daily Mail, whose sister Sunday edition is accused by the actor of having hacked into his mobile phone, waits until page 11 to report on Mr Grant.
It says his claims are "extraordinary" and says the source of the story in question was a freelance journalist.
The Mail is clear in its editorial - its papers do not hack phones.
'Mood of powerlessness'
The Daily Telegraph sees comments by David Cameron to business leaders as an admission that the government's debt reduction plan is failing.
This raises the prospect that the deficit will not be closed before the next election, the paper says, sparking further fears for the economy.
Rachel Sylvester, in the Times, says there is a "curious mood of powerlessness at the Treasury".
She says senior figures think there is a 50-50 chance of another recession.
'Responsible capitalism'
The Guardian focuses on a report on executive pay by the High Pay Commission, which has compared current salaries with those of 30 years ago.
Some have risen by up to 3,500%, and Business Secretary Vince Cable tells the paper the government will take steps towards "responsible capitalism".
The Financial Times says remuneration committees are "closed shops".
The paper is calling for these to be made independent with shareholders having a bigger say.