NoW hacking victims claim investigator tracked phones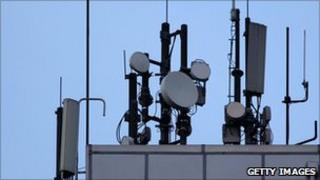 A private investigator was involved in illegally tracking mobile phones, hacking victims have claimed.
Glenn Mulcaire, who was jailed for phone hacking for the News of the World, is linked to the so-called pinging of mobiles and computer hacking, a High Court civil case heard.
Pinging is tightly regulated and restricted to police, security services and a small selection of other bodies.
Mulcaire and News International have yet to respond to the claims in court.
Pinging by the media is a breach of privacy, the BBC's legal correspondent Clive Coleman says.
It is a technique used to pinpoint the location of mobile phones through a network of cell sites, our correspondent added.
The allegations were aired at a case management hearing in the civil cases for breach of privacy brought by hacking victims against News International, the owner of the now defunct NoW.
'No witch hunt'
Five "lead cases" are due to start in January, brought by Sheila Henry, whose son Christian Small was killed in the 7 July London bombings, MP Chris Bryant, actor Jude Law, sports agent Sky Andrew, solicitor Graham Shear and footballer Paul Gascoigne.
They are a cross-section of cases, reflecting a range of victims, heard quickly so other claimants can see the issues defined, the amount of damages recovered in their type of case, and make informed decisions about pursuing their actions, or settling them.
The High Court judge said during Friday's hearing that the test cases would not be a "witch hunt".
Mr Justice Vos, who is due to hear a number of cases in the new year, added he was not going to allow a "mini-Leveson Inquiry" to take place, as the terms of reference were completely different. The judge-led inquiry, which started on Monday, is examining the culture, practices and ethics of the media.
He told lawyers for News International: "It is not a witch hunt. It is not a crusade. It is to determine the damages you must fairly pay."
The news group's lawyers also asked the judge to limit the court's consideration of the extent of hacking, as that ground would be covered at the Leveson Inquiry, and for any claim for punitive damages to be struck out. Both applications were denied.
The High Court also heard claims that a number of computer hard drives were destroyed by News International during an office move in the last quarter of 2010.
In July, the Metropolitan Police launched Operation Tuleta, alongside phone-hacking inquiry Operation Weeting, to probe allegations of computer hacking.
Operation Tuleta is examining breach of privacy claims received by police since January.
Mulcaire, who was employed by the NoW, was jailed in January 2007 for unlawfully intercepting voicemail messages of public figures.
In July 2011, allegations emerged he had also hacked into murdered schoolgirl Milly Dowler's mobile phone and had the phone numbers of relatives of service personnel killed in Iraq and Afghanistan.
The scandal saw the NoW shut down in July.