Rifleman Vijay Rai named as soldier killed in Afghanistan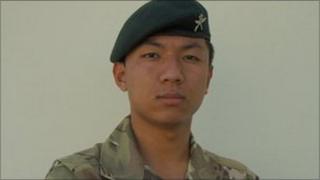 A British soldier shot dead in Afghanistan has been named by the Ministry of Defence as Rifleman Vijay Rai.
Rifleman Rai, from the 2nd Battalion The Royal Gurkha Rifles, was killed on Saturday while protecting a checkpoint.
The 21-year-old was born in Bhojpur District, Deaurali, in Nepal, and enlisted into the Army in 2008.
His family members issued a statement saying they were "very proud of him".
Family grief
He completed his basic training at the Infantry Training Centre Catterick in September 2009 before being posted to 2nd Battalion The Royal Gurkha Rifles in Brunei.
On Saturday, Rifleman Rai had taken over a sentry position on the roof of his checkpoint, which was attacked with small arms fire about an hour later.
The soldier was hit in the opening burst, given medical care on the ground and evacuated to Camp Bastion hospital by helicopter, but later died of his wounds.
Rifleman Rai's family said: "Our family is shocked with the news of Vijay's death. He was the youngest son.
"He followed his father's and brother's footsteps as his father and elder brother served as Indian Gurkhas and his middle brother is serving with Indian Gurkhas as a Sergeant. He rang his family a day before he was taken away from us.
"He was very proud to be a Gurkha, and died doing his chosen job. His father and family members are very proud of him."
Battalion 'rocked'
Lt Col Fraser Rea, Commanding Officer, 2nd Battalion The Royal Gurkha Rifles, said: "Rifleman Rai was tough, loyal, uncomplaining and utterly professional. He had a ready smile, a big heart and loved his sport and music.
"He was deeply committed to his fellow soldiers in Amboor Company and to the local Afghans whose lives he strove to improve during the tour.
"He came from a military background and was immensely proud to have been selected for service in the British Army. He was a talented young man with vast amounts of promise."
Lt Col Rea said that the soldier's death, which came close to the end of his tour, had "rocked the battalion".
He added: "Our pain, however, is nothing compared to that of his family. He was the youngest of five siblings and leaves loving parents, two brothers and two sisters behind. Our thoughts and prayers are with them at this difficult time."
Defence Secretary Philip Hammond said: "Rifleman Vijay Rai was clearly a dedicated, professional and well-loved soldier who tragically lost his life while protecting his comrades.
"My thoughts go out to the family, friends and colleagues of this proud Gurkha at this most difficult time."