Phone hacking inquiry: MPs to question Les Hinton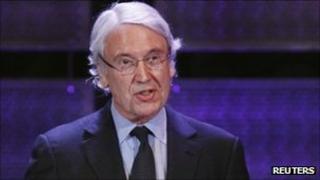 News International's former executive chairman is to give further evidence to MPs investigating allegations of phone-hacking at the News of the World.
The Culture, Media and Sport Committee will question Les Hinton, who lives in the US, via videolink on 24 October.
It is set to ask him about the period when payments were made to the paper's royal correspondent Clive Goodman and private investigator Glenn Mulcaire.
The two men were jailed in 2007 for eavesdropping on voicemail messages.
In September 2009, Mr Hinton told the committee that the newspaper's practice of hacking into the mobile phones of public figures was limited to that one case.
He said that after editor Andy Coulson resigned in the wake of Goodman and Mulcaire's convictions, an internal investigation went through thousands of e-mails and nothing he saw suggested the hacking went beyond Goodman.
However, MPs in August released a letter written by Goodman to News International after he was dismissed, in which he alleged the practice of phone hacking was widespread at the News of the World.
The letter, published on the MPs' committee website, was copied to Mr Hinton and Stuart Kuttner, the then managing editor of the paper.
Others giving evidence
On 19 October, the media committee will also take evidence from lawyers Julian Pike and Mark Lewis.
Mr Pike works for solicitors Farrer & Co, who advised News International in their case with the Football Association's Gordon Taylor who was given a reported £700,000 to settle a NoW phone-hacking claim.
Mr Lewis represents many of the people whose phones were allegedly hacked by the News of the World.
Culture, Media and Sport Committee chairman John Whittingdale said in September he wanted to hear from Mr Hinton and Farrer's before recalling James Murdoch to appear before MPs.
Mr Murdoch is the European chief executive of News Corporation - the parent company of News International, which owned News of the World before it was closed in July 2011.
He is expected to be asked about apparent discrepancies in evidence the committee has received about when he learned the hacking problem may have been more widespread than just a single reporter.