It's not the 'squeezed middle', it's the poor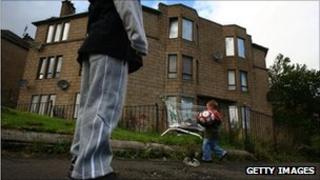 Is anyone surprised by today's Institute for Fiscal Studies report forecasting that, as Britain gets poorer, more people will be poor?
At first sight it seems self-evident that falling incomes, rising prices and a squeeze on welfare will mean larger numbers find themselves below the breadline.
But measuring poverty doesn't work like that. Developed countries like Britain have recognised that being poor is a relative concept.
So, counter-intuitively, as countries get poorer, the numbers in "poverty" can diminish.
The generally accepted definition of poverty is an income which falls below 60% of the median income.
If median incomes fall, then the poverty line falls.
The number of people below that line will remain steady or fall unless that group is being hit proportionately harder than those on middle incomes.
As today's IFS report puts it: "We estimate that real median household incomes have fallen significantly between 2009 and 2011. By reducing the relative poverty line, this reduces relative poverty, other things being equal."
This explains, in part, how 300,000 children were no longer defined as living in relative poverty between 2009 and 2010.
Unlikely targets
It does not help understand why there are 200,000 more working age adults without children in the relative poverty sector.
Nor does it explain the report's gloomy forecasts for the Britain's poorest over the next few years.
The IFS believes that the poverty line (set by median incomes) won't move upwards again until 2013. But the number of children in relative poverty during the next two years will increase by 300,000.
And the number of working-age adults below the line will also go up by 400,000.
If the assumptions and arithmetic of the IFS are correct, this suggests that the poorest are taking a bigger hit than those on middle incomes.
Normally in recessions, relative poverty declines because welfare levels remain constant as middle incomes shrink. This time, relative poverty is rising as welfare reforms squeeze the incomes of the poorest.
The media may focus on what today's figures tell us about the squeezed middle, but today's report is really a challenge to the government's claim of "fairness".
Ministers respond by saying that the report takes too little note of the behavioural change that the introduction of the Universal Credit and the Work Programme may bring for the country's poorest communities.
The government sticks to its promise of eradicating child poverty by 2020 (a pledge enshrined in statute) on the basis that they can encourage and support the poorest off welfare and back into work.
The IFS don't think they have a prayer. That, arguably, is the challenge of our age.