Official data 'masking suicides'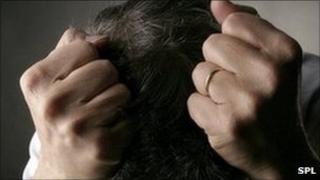 Suicide rates in England and Wales may be higher than officially stated because the way coroners record deaths has evolved, research suggests.
Academics say narrative verdicts, which describe the circumstances surrounding a death, make it more difficult for statisticians to identify suicides than traditional inquest recordings.
The Office for National Statistics says 4,648 people took their lives in 2009.
It says it is confident in data showing rates falling but is reviewing methods.
Coroners argue that their legal duties remain unchanged and that they require a high standard of proof to record a suicide.
Most of the 30,000 inquests conducted each year in England and Wales are concluded with traditional short-form verdicts, such as death by unlawful killing, accident or natural causes.
But narrative verdicts have grown in use - from 111 in 2001, to 3,012 in 2009 - often as a result of coroners raising matters of public concern, such as inadequacies in the procedures of a hospital or care home where someone has died.
'Misleading evaluation'
However, the University of Bristol's Prof David Gunnell says these verdicts make it difficult for the Office for National Statistics (ONS) to classify deaths.
"As the use of narrative verdicts rises, so too may the underestimation of suicide," he wrote in an editorial in the British Medical Journal, with colleagues from the Universities of Oxford and Manchester.
This could lead to misleading evaluation of national and local suicide prevention strategies and a masking of the effects of economic difficulties on suicide rates, they suggest.
"Furthermore... suicide rates may (falsely) seem to decline in areas served by coroners who make most use of such verdicts," they add.
While coroners must be sure of intent to be able to record suicide verdicts, statisticians use less stringent criteria to identify when someone has killed themself.
The academics note that in verdicts containing phrases like "deceased took his own life with an accidental overdose", intent is not mentioned.
But despite suicide being strongly implied, the ONS might class it as an accident.
Some coroners may also give short-form verdicts in the belief that this avoids adding to a family's distress, Prof Gunnell suggests.
While the ONS is reviewing its coding of narrative verdicts, a spokesman said it was confident "the overall picture of current suicide trends shown by national statistics is reliable".
However, he added: "The variation in practice by different coroners means that local figures could be less reliable. We are working with coroners, and others concerned, to resolve these issues."
'Nothing new'
The ONS estimates that if all deaths from hanging or poisoning given narrative verdicts by coroners and coded as accidents by the ONS were suicides, the 2009 rate would have been underestimated by up to six per cent.
Andre Rebello, of the Coroners' Society of England and Wales, said the society was "well aware of the ONS problem in codifying deaths".
But he said: "If suicide is proved, no other conclusion is considered.
"Training has been delivered to coroners explaining the problem with a request subject to the evidence received that there be as much clarity as possible as to intention in any narrative verdicts."
Prof Louis Appleby, chairman of the government's National Suicide Prevention Strategy Advisory Group, said there was "nothing new" in finding probably underestimation of suicide numbers because of doubts about intent.
"There is no reason to doubt the fall in suicide in England in the last decade," he added.