Firms vie to run UK search and rescue service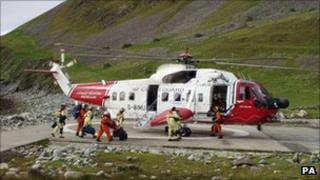 At least four companies are competing for a contract to run part of the UK's search and rescue helicopter service.
Firms had until Wednesday to submit bids for a new five-year contract to run four coastguard rescue services in Scotland and southern England.
Bids have been submitted by Bond, Bristow, a consortium including British International Helicopters and CHC, the current coastguard contractors.
The government is to announce which has been successful by the end of the year.
The preferred bidder will take over the operation of helicopter rescue services out of bases in Portland in Dorset, Lee-on-the-Solent in Hampshire, Sumburgh in the Shetland Islands, and Stornoway in the Outer Hebrides from June 2013.
The UK's search and rescue service is currently operated out of four Maritime and Coastguard Agency (MCA) bases, six RAF ones and two Navy ones.
All four coastguard bases are run by CHC, but its contract expires next year.
The Department for Transport needed to find a contractor to run the service after plans for a private consortium to take over all 12 UK helicopter rescue bases were shelved earlier this year.
The Soteria consortium did not get the contract after admitting it had access to commercially sensitive information.
Ministry of Defence police are investigating how the information came to be in the group's possession.
This new contract is expected to plug a gap until a private finance deal is reached for the takeover of the entire search and rescue service.