Phone hacking: John Yates 'still working for Met Police'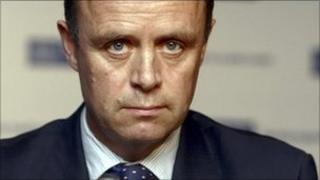 Assistant Commissioner John Yates - who resigned from the Met in July - will not formally step down until November.
In a statement, the Metropolitan Police Authority (MPA) said Mr Yates had been on leave and handing over his duties.
It added: "There is also now an opportunity for the MPA to consider its own recent actions to see what lessons, if any, may be learned for the future."
Mr Yates resigned after the MPA said he was to be suspended while his role in the phone-hacking inquiry was checked.
In its statement issued on Monday, the MPA said Mr Yates would "formally" leave office at midnight on 7 November.
Home Affairs correspondent Danny Shaw says today's statement is an attempt by both the MPA and John Yates to draw a line under his resignation and the row that followed.
He says the MPA appears to be acknowledging it could have handled matters better.
'Downright malicious gossip'
Announcing his resignation in July, Mr Yates said his conscience was clear but that "inaccurate, ill-informed and on occasion downright malicious gossip" had potential to be a significant distraction in his role as the Met's head of counter-terrorism.
Assistant Commissioner Cressida Dick was appointed his replacement.
In August, the Independent Police Complaints Commission cleared Mr Yates of misconduct in the Met's phone-hacking inquiry but said it was still looking into his relationship with former News of the World (NoW) deputy editor Neil Wallis.
After Mr Wallis left the NoW he worked as a PR consultant at Scotland Yard. He was arrested and released on bail in July on suspicion of conspiring to intercept communications.
It had been alleged Mr Yates was involved in helping to secure employment for Mr Wallis's daughter Amy.