Abramovich 'intimidated' Boris Berezovsky over Sibneft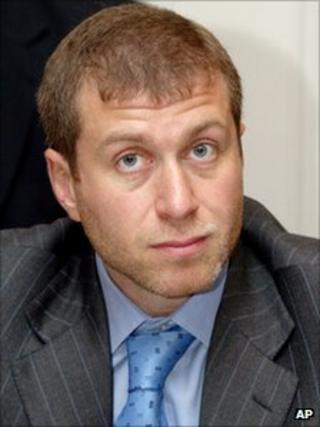 Roman Abramovich intimidated a fellow Russian oligarch into selling him shares in an oil company at a large discount, the High Court has heard.
Boris Berezovsky made the claims about the Chelsea football club owner with regards to Russian oil firm Sibneft.
He alleges breach of trust and breach of contract and is claiming more than £3.2bn in damages.
Mr Abramovich, who is worth an estimated £10.3bn, has denied the claims by his former business partner.
The Chelsea Football Club owner sold Sibneft to Russia's state-owned gas monopoly Gazprom in a multibillion-dollar deal in 2005.
Both men attended the first day of the trial, which is expected to last for more than two months.
They sat at either end of the packed courtroom.
Laurence Rabinowitz QC, who represents Mr Berezovsky, told Mrs Justice Gloster both men had worked together to acquire Sibneft and became friends.
He said the pair remained friends until Mr Berezovsky "fell out with those in power in the Kremlin and was forced to leave his home and create a new life abroad".
Mr Berezovsky is now exiled to the UK.
The barrister said his client had been "betrayed" after falling out with Russian political leaders and leaving Russia in 2000.
'Threats'
"It is our case that Mr Abramovich at that point demonstrated that he was a man to whom wealth and influence mattered more than friendship and loyalty and this has led him, finally, to go so far as to even deny that he and Mr Berezovsky were actually ever friends," he said.
Mr Rabinowitz went on: "Mr Berezovsky's case in relation to Sibneft is that Mr Abramovich intimidated him into selling his very substantial interest in Sibneft to Mr Abramovich himself at a very substantial under value and that he did so in effect by making threats.
"The threats being... that unless Mr Berezovsky... sold those interests to him, he, Mr Abramovich, would take steps with a view to the interest being effectively removed from them by those in the Kremlin, led by President Putin, who had come to regard Mr Berezovsky as his enemy."
The barrister claimed that Mr Abramovich had also threatened to "take steps with a view to preventing" the release from prison of a close friend of Mr Berezovsky.
Mr Rabinowitz said his client contended that as a result of "this intimidation", he was pressured into selling his Sibneft interest to Mr Abramovich for "very substantially less" than it was worth.
The case continues.