MP condemned for Gurkha 'asylum seeker' remarks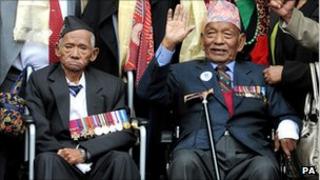 Gurkha campaigners have condemned a Conservative MP who said the Nepalese veterans should be dispersed around the UK like asylum seekers.
Gerald Howarth said towns in his Aldershot constituency were suffering "very considerable burdens" after an influx of about 10,000 Gurkhas.
But Peter Carroll, of the Gurkha Justice Campaign, described the idea as "shocking and unacceptable".
Gurkhas won the right to live in the UK in 2009 after a high profile campaign.
Mr Carroll said he had written to the prime minister and deputy prime minister to ask them to intervene and "rein in" Mr Howarth.
The Aldershot MP, a junior defence minister, told BBC Radio 5 live on Saturday that this Hampshire constituency was facing a "very serious situation".
"It's imposing very considerable burdens on local services, particularly on the health services," said Mr Howarth.
"Essentially it's very unfair on both the local population and on the Nepalese, many of whom are wholly unfamiliar with our culture, don't speak English, don't appreciate the climate and I think have been lured here under false pretences."
Recommending that Gurkhas were rehoused across the country, he added: "It's a perfectly sensible policy. Dispersal is what we do with asylum seekers."
'Anxiety and hurt'
He also criticised Joanna Lumley - who fronted the campaign to secure the Gurkhas' rights - and said the actress had not realised the consequences of her actions.
"She has taken no interest in the problems that we face here, Mr Howarth told BBC Radio 5 live.
"The fact is that Joanna Lumley ran a very high-profile, wholly emotional campaign to overturn a long-standing 50-year-old agreement which had stood the test of time."
Peter Carroll said the comments had caused "huge anxiety and hurt" among the Gurkha community.
"The Gurkhas have suffered discrimination for decades," he said.
"I feel that the hundreds of thousands of people that supported the campaign will feel a sense of great disappointment and outrage that this situation has arisen, and will be looking to the prime minister and deputy prime minister to rein in Mr Howarth."
More than 200,000 Gurkhas fought for the British army in the two world wars, and in the past 50 years they have served in places such as the Falklands, Kosovo, Iraq and Afghanistan.
The successful campaign to secure their residency rights means that all retired Gurkhas with at least four years' service can now live in the UK.
Based at Shorncliffe near Folkestone, their current force numbers about 3,500 men.