Baha Mousa lawyer calls for British Army prosecutions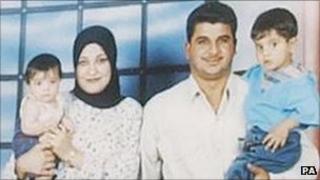 A lawyer for the family of Baha Mousa, killed after being detained by a British military unit in Iraq, has called for the soldiers and officers involved to face prosecution.
Mr Mousa died in 2003 after what an inquiry last week described as an "appalling episode of serious gratuitous violence".
Phil Shiner said he was referring cases to the Director of Public Prosecutions, including possible charges of murder and war crimes.
Mr Shiner said: "Justice for Baha Mousa and his family obviously requires that the large number of soldiers and others in command who are responsible for Baha Mousa's death are held criminally responsible.
"I am instructed to refer a number of individuals, including those in positions of command, to the Director of Public Prosecutions for the prosecution of various offences of war crimes and other domestic criminal law offences.
"I am also instructed to refer a number of individuals, including those in positions of command, to the Director of Service Prosecutions for various service offences including those of negligent performance of duties."
Mr Mousa died with 93 injuries in British army custody in Basra.
Inquiry conclusions
He was arrested, along with nine other Iraqis, at the Haitham Hotel in Basra on 14 September 2003 by members of the 1st Battalion The Queen's Lancashire Regiment (1QLR).
The chairman of the year-long inquiry into his death, Sir William Gage, blamed "corporate failure" at the Ministry of Defence for the use of banned interrogation methods in Iraq.
Sir William said a "large number" of soldiers assaulted Mr Mousa and the other detainees, and he added that many others - including several officers - must have known what was happening.
Prime Minister David Cameron said such an incident should never happen again.
Mr Mousa's father, Colonel Daoud Mousa, said he wanted justice. He said: "I saw my son after he passed.
"He had a broken nose, a bloodied face and a bruised body. There were numerous impact marks on his body as a result of torture. It caused me a great deal of pain and a mild stroke. I see justice in this report.
"I also want to see those responsible for these actions to be brought to justice after instructing my solicitor to show the truth."
'Violent bully'
The inquiry concluded that Mr Mousa's death was caused by a combination of his weakened physical state and a final bout of abuse.
Cpl Donald Payne had violently assaulted Mr Mousa in the minutes before he died, punching and possibly kicking him, and using a dangerous restraint method, the inquiry found.
While this was a "contributory cause" in the death, Mr Mousa had already been weakened by factors including lack of food and water, heat, exhaustion, fear, previous injuries and the hooding and stress positions used by British troops.
Sir William said Payne was a "violent bully" who inflicted a "dreadful catalogue of unjustified and brutal violence" on the detainees, also encouraging more junior soldiers to do the same.
His abuse included striking each of the detainees in turn in order to elicit cries of pain and create a "choir" effect.
Payne became the first member of the British armed forces convicted of a war crime when he admitted inhumane treatment at a court martial in 2007. He was jailed for a year and dismissed from the Army.
And while the inquiry accepted that commanding officer Col Jorge Mendonca was unaware of the abuse, Sir William said: "As commanding officer, he ought to have known what was going on in that building long before Baha Mousa died."