Hurricane Irene leave thousands of Britons stranded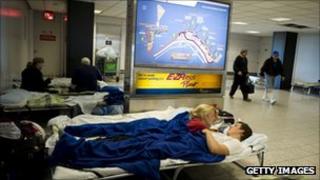 Thousands of British travellers face days stranded in the US as airlines struggle to clear the weekend's backlog of flights following Hurricane Irene.
Airlines are beginning to resume normal services but passengers face delays as UK-bound flights are already full.
British Airways and Virgin are putting on extra flights but BA warned delays would take "a few days" to resolve.
Some 9,000 planes were grounded by the storm, with New York among the cities which closed its airports.
British Airways said it had two days' worth of flights to catch up on and had sent three extra planes to serve Newark and JFK airports in New York.
Expenses
"It's the peak time of year for travel. People are coming back from summer holidays to start school, so flights are full anyway, a spokesperson told the BBC news website.
Britons stuck in US after Irene
"Combine that with having to cancel flights and it will certainly take a few days to ensure everyone gets away.
"We have a finite number of aircraft we can deploy and we're looking to put on extra flights.
"Our priority is to maximise the number of people we can get on board."
Other eastern cities such as Boston and Baltimore were also affected, she added.
It is unclear how many British passengers are stranded but the Association of British Travel Agents (Abta) said as many as 10,000 British holidaymakers could currently be in New York.
An Abta spokesman said EU-based airlines were obliged to pay for reasonable day-to-day expenses such as food, refreshments and overnight accommodation until their customers returned to the UK.
But because the delays were caused by a natural disaster, no compensation would be paid, he said.
BA said it would look at each individual case to decide on paying expenses because people had very different circumstances.
It also said customers whose flights had been cancelled could claim a full refund.
Virgin Atlantic said people without a confirmed reservation should not go to the airport and it would not accept any stand-by passengers.
A spokesperson said: "We can confirm that we are now operating a full flying schedule to and from the east coast of the United States.
"Additional seats will also be made available to ensure that the backlog of passengers away from home is cleared as soon as possible."
Irene, a 500-mile-wide storm which battered the east coast and has now passed into Canada, has killed 40 people in the US.
More than five million remain without power, while Vermont is reeling from its worst floods in many decades.