Esther Rantzen: I was abused as a teenager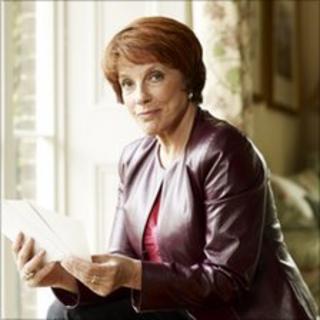 Childline founder Esther Rantzen has said she was sexually abused as a teenager.
The TV presenter spoke for the first time about how she was attacked by a male relative when she was 15, in an interview with the Times newspaper.
"I remember the revulsion I felt," said Rantzen, 71.
She said the experience had made her determined to set up the counselling charity Childline, which marks its 25th anniversary this year.
In the interview she described the incident as "appalling" and "traumatic" and said she remembered running to the end of the garden in tears afterwards.
'Don't tell on me'
"I had a disgusting member of the family who behaved inappropriately when I was in my teens," she said.
"The whole thing was traumatic. He said, 'Don't tell on me'.
"I wouldn't have known the phrase 'sexual abuse' but I knew it was disgusting and he knew [it was wrong].
"He frightened me and disgusted me from that moment on. It gave me nightmares."
She described how her mother did not believe her when she confided in her about the attack.
"My mum said, 'Don't be ridiculous, Esther. You're over-dramatising'," said the former presenter of the BBC's That's Life.
Rantzen said that had Childline existed in the 1950s she would have called the number for help.
She never had counselling, she said, but time had helped her forget, and she said the experience had given her a "certain insight" into child abuse.
She said the relative in question was now dead.
Rantzen founded Childline to help children in danger or distress after hosting a one-off programme, Childwatch, in which she asked viewers to open up about abusive childhoods.
The BBC's switchboards were flooded with calls after the show was broadcast; many of them from children.
The confidential helpline, which is now run by the NSPCC, opened on 30 October 1986.