UK's Libyans hail Battle for Tripoli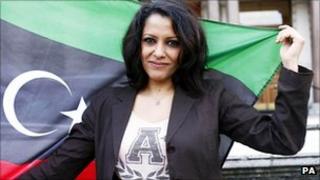 Libyans living in the UK have swapped fear and apprehension for jubilation as the Gaddafi regime appears to be falling apart.
Many stayed up throughout the night to watch the astonishing events in the Libyan capital of Tripoli unfold.
They describe their relatives and the rebel fighters as "heroes", and say Sunday will go down in history.
Reda, 34, who lives in Windsor, struggled to contain his pride after watching the speed at which rebels seized control of much of the city.
His cousin is one of the rebel fighters, and he spotted him on CNN as they were entering Tripoli and heading to Green Square.
"One regret is that I'm not with them and that I wasn't there to help," he said.
"But I am so proud of them. All the men and women over there are absolute heroes."
Reda, who works in IT, was born in Tajoura in Libya and all of his family are in the country, although he has lived in UK since the age of two.
"It's an amazing feeling," he said.
"After the birth of my daughter, it's probably the happiest day of my life.
"Libya is free, to all intents and purposes.
"Now we have to show we are one people and one country and we must now build for a better Libya. I'm so happy."
Basma, the niece of the leader of the National Transitional Council, was among a small band of Libyans outside the country's embassy in London.
"I'm so happy, I couldn't sleep all night," she said.
"I want to thank the Libyan people so much, I have been waiting for this for a long time."
Tasting freedom
Assad, who left Libya more than 20 years ago to study in the UK, describes recent developments in Tripoli as "exciting" and beyond what he had hoped for.
Assad, who works with the humanitarian aid charity World Medical Camp for Libya, said: "It's been more than I expected.
"We knew Gaddafi's days were numbered and now it really looks like it's over.
"It looks like there's been very little bloodshed, because there was a worry that Gaddafi might take revenge and turn Tripoli into a bloodbath, but that hasn't happened."
Assad, who is hoping to visit Tripoli in the next few days, says of the Gaddafi regime: "We never felt we had a stake in the country, because the wealth went to Gaddafi and the people around him, and my connection with the country weakened over the years.
"But, in the last six months, we have found our patriotism and connection again and we feel we can now contribute to the country."
Asma, a 32-year-old pharmacist, on Sunday evening took to the streets of Rusholme in Manchester with friends and family to celebrate, describing the atmosphere as "wonderful".
"My family can finally taste freedom for the first time in our lives. They are very, very happy," she said.
Asma, who is living in Chorlton, Manchester, with her husband and three-month-old daughter while she completes a masters degree in virology at the city's university, said she was hopeful it marked the beginning of a new life for Libyans.
"In my country we haven't been able to speak freely, even amongst our friends, about Gaddafi and the old regime," she said.
"We are now in a new regime and we hope this new regime will bring freedom to our children and to our families.
"I hope we can be the most free country in the world."
Kameal, 53, a taxi driver from Tripoli who lives in Ebbw Vale, south Wales, described the feeling of watching Tripoli being overrun by rebels as "amazing".
He had feared a bloodbath when tens of thousands of rebels made their final push towards the capital.
"I just couldn't believe it. If you can imagine 42 years of the regime and all of a sudden it's just finished and you can touch freedom - you just can't describe it really," said Kameal, who lived in Tripoli until he was 18 before moving to Wales as a student.
He said he hoped to visit as soon as the airport was up and running, saying he was not sure how it would feel to walk on home soil - but "it's going to be unbelievable".
'Like winning an Oscar'
Muayed, 26, a PhD dentistry student at Manchester University, who has been in the UK for three years, had been phoning his family every two hours to check they were OK.
He said people gathered in the streets of Rusholme in Manchester as the rebels reached the main square, and there was a sense of disbelief as people hugged, cried and congratulated each other.
He described the night as "like winning an Oscar".
"It was the greatest moment of my life," he said.
Abdelatif, 45, said he couldn't believe his eyes as jubilant crowds gathered in the main square in Tripoli.
"I'm over the moon," said the father of three, a former engineer in Benghazi and now a takeaway owner in Manchester.
"Me and my family were jumping about with happiness."
And Sondes, 29, a mother and political activist also from Manchester, said the events of Sunday night were "absolutely amazing".
She warned the situation was still unpredictable.
"There are still pockets of resistance. My uncle said his friend was shot in the leg by a sniper."
But she now believes Sunday is a day ordinary Libyans will remember forever.
"February 17 and August 21 are going to go down in history - they will probably become national holidays," she says.