Q&A: Rail fare rise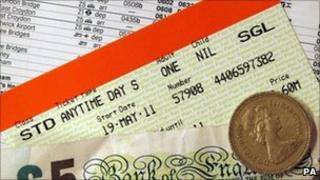 Rail commuters are facing ticket rises of an average of 8% from January next year, following the release of latest inflation figures. But why are they set to increase by so much? And how will the money be used?
Why are rail fares going to rise?
July's Retail Price Index (RPI) inflation figure determines the rise in regulated fares in England. The government argues that the price rises are needed to fund improvements to services.
The decision affects regulated fares - season tickets, off-peak long-distance return tickets, short distance anytime tickets around major cities.
Some passengers will find fares rise more than the 8% average as train companies are allowed to increase prices by an extra 5% on top of the pricing formula, so long as that is balanced with reductions elsewhere.
How do the rail fare increases compare to others in recent years?
The Government has recently changed the annual price rise formula from RPI inflation plus 1% to RPI inflation plus 3%. After privatisation and until 2004, regulated fares rose by RPI -1%. This then changed to RPI +1% and 2012 will be the first of three years of RPI +3%.
What will the extra money from fares be spent on?
Raising fares is part of the government's bid to achieve its transport improvement goals. It says revenue from fares will enable it to deliver improvements on the rail network, such as the reduction of overcrowding to raise the standard of conditions for passengers.
The Department for Transport says raising fares means that it can secure investment in major rail projects. By way of example, it points to the Crossrail and Thameslink projects, Tube upgrades and light rail extensions in Birmingham, Newcastle and Manchester.
Ministers say money raised will also help to provide more than 2,700 new rail carriages and a £900m programme to electrify more rail lines.
Many rail users would argue that the UK downturn leaves them with less money to spend.
The government says it wants to cut the budget deficit but also maintain the spending on the railways, in terms of keeping them running and investment.
The government's programme of cuts, which was unveiled in last October's spending review, says the programme of cuts in different areas, including transport, will allow it to reduce the public debts and trim debt interest payments by £5bn a year by 2014.
If fares were held down, investment would have to be delayed or cancelled or the money would have to come from elsewhere - either taking it from other public spending or by not cutting the deficit as quickly.
What is the current level of government subsidies to the railways?
In 2010/11 government funding was £4bn, with fares from passengers contributing another £6.6bn.
Why are some companies, like Scotrail, not adopting the same changes?
The average 8% annual price rise does not apply to the train companies operating in Scotland and Wales or to services run by these firms starting in Scotland and Wales into England.
Decisions on such fare rises are made separately in the devolved nations and ticket prices could rise by about 6%.
Transport Scotland says Scotrail will be carrying on with an RPI +1% formula for regulated fares under a franchise agreement which runs until 2014.
Any increase in ticket prices for regulated fares inside Wales is yet to be made. Arriva Trains Wales currently uses a formula of RPI +1% but the Welsh government has the option to modify the settlement. A spokesperson said it was reviewing its options and would make a decision shortly.
Meanwhile, Merseyrail fares will go up by RPI +0% following a decision by Merseytravel, the passenger transport executive which manages the franchise.