England's tourist attractions see rise in numbers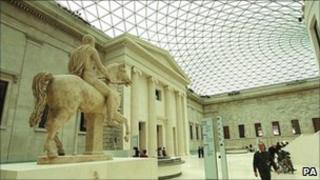 England's visitor attractions saw a 3% rise in admissions in 2010, a survey by a tourism body suggests.
Overall, non-charging attractions saw numbers increase by 6%, with paid-for attractions reporting a decline of 1%.
Most of the top 20 places of interest were museums or art galleries, and the British Museum retained its top spot with 5.8m visitors, up 5% on 2009.
The Tower of London topped the paid-for category with 2.4m visits, the survey of 1,082 sites by VisitEngland found.
The next most popular non-charging attractions, after the British Museum, were the Tate Modern, the National Gallery and the Natural History Museum.
Regional venues also featured heavily among the most popular free attractions, including the Ashmolean Museum, the Merseyside Maritime Museum, Museums Sheffield and the World Museum Liverpool.
'Tough competition'
After the Tower of London, the most popular paid-for places to go were St Paul's Cathedral, Westminster Abbey, Windermere Lake Cruises, and Flamingo Land Theme Park and Zoo.
Following the pattern from last year's study, the performance of attractions varied by category, with visits to museums and art galleries showing an increase of 5%.
Country parks were up by 5%, and workplaces and places of worship saw a 4% rise.
Across the regions, the strongest performance was in London with an increase of 6% in visitor numbers and the North West and South East, both with an increase of 3%.
VisitEngland chief executive James Berresford said: "England has a wealth of top class visitor attractions, many of which are free.
"We know Britons are even more worried about the economy and this will have an impact on their holiday choices.
"Competition on the world stage is tough and it is the quality of our attractions that will help to ensure that people come back time and time again to visit something new, exciting and unique to England."