England riots: Tottenham tries to get back to normal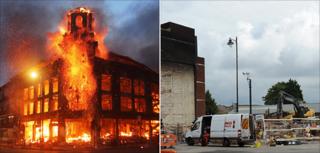 The scars left by the violence in Tottenham are visible in the burnt-out buildings and boarded-up shops.
But almost a week later, as steam rollers repair the road damaged by a torched bus, efforts to reconstruct the community and its determination to recover are clear.
The attitude is perhaps best summed up by life-long resident Barbara, who says: "No-one's on a downer. It's the British way. What choice do we have but to make the best of it?"
The 72-year-old, who was born - and hopes to die - in Tottenham is one of the team at St Mary the Virgin church, just yards from the now-demolished Allied Carpets store.
It opened the morning after the violence to provide a refuge for firemen, and is now fuelling the construction workers with tea, sandwiches and cake.
She says she would love to see the buses back on the high road, adding that the issue concerning most local people was whether the Aldi supermarket would return.
'Good community'
Outside, posters advertised a peace march, while young offenders took a break from stripping and varnishing the pews as part of their community service.
It's a punishment that the rioters are unlikely to face, with the prime minister vowing that prison sentences should be imposed.
But Barbara believes the violence has actually had a positive effect on the atmosphere in the community.
"I've noticed when walking down the road, people who are usually just busy going on their way are all saying, 'good morning' as they pass."
She says she has been defending the area "for years" as she says people always remember the Broadwater Farm riots in 1985 and think "oh no".
"It's a shame what happened to Tottenham, but we will recover. It is a good community," she says.
It's a sentiment shared by one of the police officers guarding the cordoned-off high street. He says the main reaction from the public to their presence is simply "thank you".
Police support
The unrest came after the fatal shooting by police of Mark Duggan, 29, and a peaceful protest march to the police station that followed.
The police officer cautiously says the atmosphere in London feels different from earlier in the week, with no tension in the air now. "Before, you just knew it wasn't right," he says.
All police officers' leave has been cancelled until next Tuesday, by which time he will have worked 16 days in a row.
"When something like this happens, I think people appreciate the police. People always have things to say about the police and most are not positive things. But people are scared and at times like these they really appreciate what the police do," he said.
Another officer said drivers had been tooting their horns and waving in support as they drove to emergencies throughout the week.
On Friday, the high road was still cordoned off, but due to reopen as soon as the tarmac was in place and road markings repainted.
Some people were stopping to take photographs of the damaged buildings, but most were getting on with their normal business.
'Just ridiculous'
Thompson's Seafoods, which has been in Tottenham for 22 years, had been closed until Thursday due to the cordon.
James Pledger, 38, said their takings were two thirds below their usual level, but they were lucky as they had not lost their shop.
"People are still a little bit frightened to go back onto the streets, but you just need to get on with it really. You can't let them get you down," he says.
"I can understand people being upset after the shooting, but the looting and everything, it's just ridiculous."
The stall's owner, Bob Thompson, said he is a bit wary and keeping alert, but Tottenham was a good community.
"There are 47 different nationalities in this area and we've been here 20 years and never had any problems at all.
"It's such a shame as everyone seemed happy on Saturday afternoon, then I woke up on Sunday morning, looked at the television and thought I was in Northern Ireland. I was so shocked to see it was Tottenham."
Wedding celebrations
And his message to people in the area?
"Relax and try to get back to normal. It's been alright for the last 20 years."
Mark St-Clair, 37, lives in a house facing the Allied Carpets store, which was destroyed in the riots along with 26 flats.
He was abroad when the violence unfolded, but his wife and two children were home with "stuff packed in a little bag, ready to take off" as thugs roamed outside for hours.
But he says he feels positive about the future, and was happy to get married in St Mary's church on Thursday - despite their plans being disrupted by the riots.
"The road was all barricaded off, so we had to go the long way round, and a lot of people I work with were too frightened to come here," he says.
"It's terrible that it escalated from just a peaceful protest - people took advantage of that and decided to do their own thing. I don't think it was local people doing it, they came from different areas."