Judges criticise Ratcliffe prosecution non-disclosure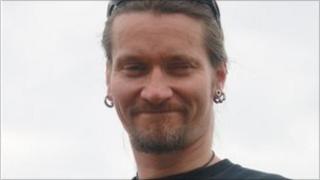 The convictions of 20 people for trying to shut down Ratcliffe-on-Soar power station was a miscarriage of justice, the Court of Appeal has ruled.
The group's convictions were quashed after it was revealed they had been infiltrated by an undercover policeman.
They had been found guilty of conspiracy to commit aggravated trespass at Nottingham Crown Court.
Lord Chief Justice Lord Judge said "elementary principles" of fairness were ignored.
There had also been "significant" non-disclosure of evidence which would have helped the defence, he added.
"It is a case which has given rise to a great deal of justifiable public disquiet, which we share", said Lord Judge - who ruled on the case with two other appeal judges.
"Something went seriously wrong with the trial. The prosecution's duties in relation to disclosure were not fulfilled.
"The result was that the appellants were convicted following a trial in which elementary principles which underpin the fairness of our trial processes were ignored."
The convictions were quashed, said the judge, because of a failure to disclose information about the "role and activities" of undercover police officer Mark Kennedy, as well as other relevant evidence.
The protesters had been convicted of conspiracy to commit aggravated trespass at the Ratcliffe-on-Soar coal-fired power station in Nottinghamshire in April 2009.
They were found guilty by a jury at Nottingham Crown Court in December, with the trial judge saying they were "decent men and women" motivated by concern for the environment.
'Entrapment'
Lord Judge said the withheld evidence could have helped the defence to present a case "of abuse of process by way of entrapment".
It showed that Mr Kennedy had gone further than authorised and appeared to have become an "enthusiastic supporter" of the group, and "arguably an agent provocateur".
Mr Kennedy was previously said to have spent seven years working undercover in the green movement across Europe, making notes and recordings of meetings.
Today's full judgment added that secret recordings made by Kennedy also supported the defence's claim that the group intended to carry out the protest in "careful and proportionate manner".
Another trial involving six protesters collapsed in January.
The Independent Police Complaints Commission and the Crown Prosecution Service have both launched enquiries into the case.
The 20 people who have had their convictions quashed are:
David Barkshire, 45, of Sheffield; Paul Kahawatte, 26, of Whitstable, Kent; Ben Julian, 34, of Hackney, London; Spencer Cooke, 43, of Belper, Derbyshire; Martin Shaw, 46, of Oxford; Phillip Murray, 25, of Canterbury, Kent; Jesse Harris, 25, and Anna Rudd, 32, both of Leeds; Adam Waymouth, 27, of Salisbury, Wiltshire; Bradley Day, 23, of Swansea; Chris Kitchen, 33, of Colchester, Essex; Emma Sheppard, 30, of Manchester; Daniel Glass, 27, and Jonathan Leighton, 22, both of Glasgow; Olaf Bayer, 36, and Lisa Kamphausen, 27, both of Southampton; Clare Whitney, 26, of Cambridge, and Jacqueline Sheedy, 46, Sarah Shoraka, 33, and Ben Stewart, 37, all of Stoke Newington, London.