Famine donations 'making a difference' say aid workers
21 July 2011

From the section

UK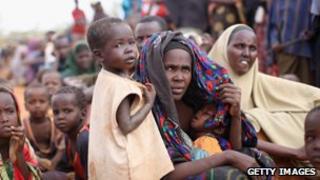 The UN has declared a famine in two areas of Somalia, while parts of Kenya and Ethiopia are also in crisis due to the region's worst drought in half a century.
An appeal by the Disasters Emergency Committee (DEC) has seen the British public raise £20m - despite a recent poll suggesting Britons are becoming more reluctant to donate to foreign aid.
But how does the DEC, which collects money on behalf of 14 charities, distribute its funds - and how are they being used by aid workers on the ground?
Nick Guttmann, the head of Christian Aid's humanitarian division, describes the challenge he and his team face.
"There's some water - but not much, and the sanitation is poor," he says.
"The more people come, the more difficult it's going to get."
Mr Guttmann helps in the reception centre of the Dadaab refugee camps in Kenya, now overwhelmed by people fleeing from Somalia. It's thought 370,000 people are there, despite its 90,000 capacity.
Christian Aid volunteers register the new arrivals, give them information about their rights, and hand out supplies.
"People will get clothes, plastic sheeting for shelter, sleeping mats, kitchen sets, and they'll also get two weeks' rations... It's a complicated process and we have to make sure people aren't registering more than once," says Mr Guttmann
Christian Aid is one of the agencies that DEC raises money for and the organisation is also helping to distribute water, repair bore-holes and dig water pans - mini-reservoirs - to collect the rains that will hopefully arrive in a few months.
Mr Guttmann says the "fantastic effort" of the British public is helping the charity to continue and intensify its work.
He describes how a local head teacher enthusiastically thanked his team for supplying water to a village, meaning children could return to the school.
"It's obviously difficult and makes me angry when I see people in these situations when they should be having a decent life," he says. "But when you hear that it compensates for the difficulties one sees."
Life and optimism
Merlin is another UK-based charity that says the public's donations are having an "enormous benefit" on what it can do.
It specialises in providing doctors and nurses, and Chip Barnett - its director for Kenya and Somalia - says the extra cash is allowing more young children and pregnant women to take advantage of its nutrition programmes.
"In the north-west of Kenya we've been supporting 23 health facilities and doing outreach into 31 villages. We're now expanding that into 33 facilities and going out into 71 communities.
Without Merlin's efforts a "large proportion" of the people it treats and feeds would likely die, particularly the children, he says.
The scope of the crisis is daunting, admits Mr Barnett, but he says it's vital to stay positive despite witnessing the drought's terrible effects, such as severely malnourished children and families whose cattle herds have been decimated.
"I'm personally an optimist and I don't think you can be in this kind of business unless you are.
"I cope in the way I think most of us cope - by focusing on the individual people we're trying to help and doing something active, concrete to help them."
Aid 'scepticism'
Worries over 'overheads' and how much money actually reaches those in need is a perennial concern during disaster appeals, but Brendan Paddy - DEC's communication manager - says it has a thorough system of checks.
"Charities have to report back to us what their intentions are. and then they have to report again on what they have actually delivered.
"But we don't just rely on those reports. We also commission our own independent evaluation on the work our members are doing."
Reporting procedures cost money, he says, but are demanded by the public and are essential to maintain confidence.
"The important thing from our view is what can we deliver in terms of bang for your buck", says Mr Paddy.
The DEC does not do relief work itself, but instead conducts fundraising for its 14 members, which also include Oxfam and the Red Cross.
Money is allocated based on the size of the agency and the resources they have - but it also involves an element of trust.
"We divide up the money among the members according to their capacity to spend it. We rely on their judgement on what the highest priorities are," says Mr Paddy.
However, when the media spotlight eventually moves from the crisis, the work in the region is far from done. The aim for charities in the region is a permanent improvement in quality of life
"The difficulty that we face is that we are dealing with a population that was not well off before this struck", says Mr Paddy.
"They were struggling to survive before. We don't actually want to return them to their former destitution, we want to return them to something like a sustainable livelihood."