Thomas Ossel from Bedfordshire shot dead in Venezuela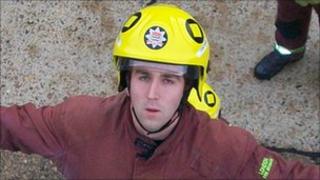 A British man has been shot dead and his brother injured while on holiday in Venezuela, the Foreign Office said.
Thomas Ossel, 28, from Bedford, died on Monday after being shot in the jaw, and his brother Jack was stabbed.
A Venezuelan police official said officers believed gunmen were trying to rob the brothers in their hotel room and opened fire when they resisted.
The Foreign Office said it was helping the family of Mr Ossel, who worked as a fireman in London.
Mr Ossel and his 21-year-old brother, a student in London, had been on holiday in South America since 30 June.
'Put up fight'
In a last e-mail to their parents, the brothers said they were planning to leave Margarita Island on Tuesday, and had been due to return home on 9 August.
Family friend Jacqueline Baxter said they were in their room at Posada Casa Rosa Hotel in the resort of Playa el Aqua on Monday morning when a group armed with a knife and gun burst in.
The men and women had already threatened a receptionist and forced the man to take them to where the Britons were staying.
Mrs Baxter said Mr Ossel had put up a fight, possibly believing the gun was a toy.
"At the moment their father has travelled to Venezuela and obviously their mum is not able to make a statement.
"The younger son is still out there, so he is still at considerable risk.
"Tom was a lovely young man, a seasoned traveller who loved adventure.
"He was a fit, strong man... he was certainly not going to take too kindly to being robbed."
London Fire Service Commissioner Ron Dobson said: "We were shocked and saddened to learn of Tom's untimely death.
"I know he will be sorely missed by his fellow firefighters. Our thoughts are with his family, friends and colleagues at this sad and difficult time."