Horn of Africa drought: UK charities boost Somalia aid
13 July 2011

From the section

UK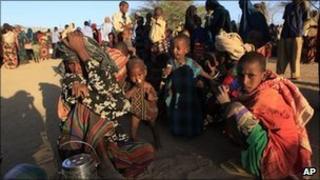 British aid agencies are preparing to expand their activities in Somalia to help some of the 10 million people at risk of starvation in East Africa.
Relief operations have been constrained by the security situation in Somalia.
But Islamist militant group al-Shabab last week announced it was lifting a ban on foreign aid organisations because of the severity of the drought.
The UK's Disasters Emergency Committee has launched an appeal after severe drought in the Horn of Africa.
The Disasters Emergency Committee (DEC) said Somalia, where there has been no national government for 20 years, was one of the hardest places in the world to deliver aid.
Most international aid agencies in the country have been banned from working in areas under the control of al-Shabab, which is thought to have links to al-Qaeda.
DEC charities are preparing to increase their work in southern Somalia as thousands of people continue to flee to Kenya, Ethiopia and even Somalia's war-torn capital Mogadishu.
One of the DEC's member charities, Islamic Relief, said its priorities in Somalia were focused on providing food aid, healthcare, clean water and sanitation facilities.
It said one of its projects has been working in camps in the Afgooye corridor - a 20km-long strip of land north-west of Mogadishu - where it has provided emergency food aid to 3,425 households.
The charity said £50 could provide clean water to 1,000 people, while £100 could provide emergency food to 100 families per day.
BBC world affairs correspondent Peter Biles said the agencies were now looking at every opportunity to help people in Somalia, although the new arrangements with al-Shabab are still to be tested.
Al-Shabab is officially labelled as a terrorist group by the UK and the US, and some donor governments are known to be worried about the possible diversion of aid to the insurgents.
The DEC, a group of the UK's leading aid agencies, launched the fund-raising appeal with a series of TV and radio broadcasts on Friday. By Monday it had raised £9m.
Comedian Lenny Henry fronted the BBC TV appeal, while broadcaster Kate Adie voiced a radio version.
The British public donated more than £1m to individual charities even before the DEC appeal was launched.
The UK has pledged £38m in food aid to drought-hit Ethiopia - enough to feed 1.3 million people for three months.
Meanwhile, the Organisation of Islamic Cooperation (OIC) aid agency has started distributing aid in Mogadishu following the lifting of the ban by al-Shabab.
The OIC gave out dried food such as maize to some of the thousands of people who have fled to the capital recently.
An OIC official urged other aid groups to resume work in Somalia.
Thousands of families in desperate need of food and water have trekked for days from Somalia to the Dadaab refugee camp in eastern Kenya.
The drought is the worst in East Africa for 60 years. The UN described it as a "humanitarian emergency".