Afghanistan troop reduction 'modest', says Cameron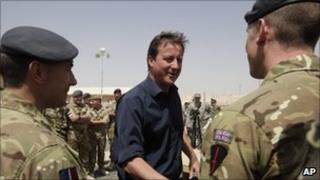 David Cameron has said there will be only a "modest reduction" in British troops in Afghanistan next year, during a visit to Helmand Province.
There are already 400 British troops returning home this year, leaving a core of 9,500 service personnel.
He is expected to confirm that 500 will be withdrawn next year. Defence chiefs have reportedly warned against bringing too many troops home too early.
His visit coincided with a British soldier going missing in Helmand.
Mr Cameron, who cancelled his plans to visit Lashkar Gar saying he wanted the British military to concentrate on finding the man, described it as a "very disturbing incident". The soldier was later found dead.
All available helicopters were being used on the search for the soldier, so Mr Cameron met British and US troops at Camp Bastion instead of touring patrol bases.
He said there would be "challenges and problems right up until the end of this mission".
The prime minister has already said that British troops will not be involved in a combat role in Afghanistan from 2015.
No radical change
But he said the campaign was entering a "new phase" where the Afghan National Army and police force could take on more operations.
The BBC's deputy political editor James Landale said Mr Cameron was expected to tell MPs later this week that he was looking to withdraw around 500 more next year.
He added that Mr Cameron appeared to be heeding commanders' warnings that a rush for the exit could take pressure off the Taliban just at the wrong time.
The prime minister said British troop levels would not see a "radical change for the fighting season of next year".
Mr Cameron said: "We're talking about a modest reduction in troops, remember that Britain has got more troops in Afghanistan than any country other than the Americans, some 9,500, so it's a modest reduction.
"I do think it's right that we start planning how we hand over control in this country to the army, the police and the government because the British public don't want us to be here forever, the British Army doesn't want to be here forever, the Afghan people don't want us here forever.
"We have to build up the Afghan army and police as our ticket home.
"When we have gone we will still have a strong and long relationship with Afghanistan, a relationship of aid and trade and diplomacy and military training because we want this country to be free from terrorism and to be a success."