Why Labour leader Ed Miliband is against strikes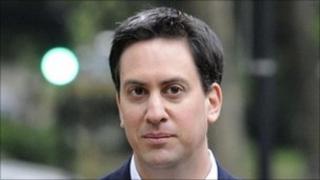 Labour leader Ed Miliband has now come firmly off the fence over this week's public sector strikes.
His message to the unions - call off your strikes.
It represents a significant hardening in his position and one that is certain to infuriate many public sector workers.
Previously Mr Miliband had confined himself to describing the strikes as "a mistake" and "a sign of failure".
His aides say there's already been a lot of criticism from aggrieved union members over the internet of his decision to tell the unions to return to the negotiating table.
But Mr Miliband's view is that the strikes risk backfiring.
Far from helping to galvanise public support behind public employees, Mr Miliband fears it will lose them the crucial backing of public opinion.
The Labour leader also believes the unions should await the outcome of the current negotiations with the government.
Leadership test
His team know this is a risk. Many in the unions will view it almost as an act of betrayal for a Labour leader to turn his back on them when they are engaged in such a key struggle over pensions.
Many Labour MPs may also be deeply uneasy about his decision to so publicly disown the strikes - even given his criticism of the government's "provocative" approach to the talks.
Indeed many Labour MPs have adopted a much more equivocal stance - refusing to condemn or condone the strikes.
But for Mr Miliband's this is not just about the rights and wrongs of this week's proposed strikes - it's also about his leadership.
The hope is his move will be seen as further evidence that he is prepared to take a lead, be brave and tell his own supporters some uncomfortable truths.
It follows on from his decision last week to tell his MPs he wants to scrap their right to elect members to the shadow cabinet.
There is a view too that it is important following the labour leadership election in which he was so heavily dependant on union support - for Mr Miliband to show he is not in the pocket of the unions.
There is also a more pressing political reason for Mr Miliband's stance.
He knows Thursday's strikes are likely to be greeted by a frenzy of angry headlines. Mr Miliband absolutely does not want to be pigeon-holed as on the side of the strikers.
And yet, despite all the political calculations behind his warnings to the unions, it is a significant moment and a test of his leadership.
For while many of his supporters will be delighted that he has taken such a robust stance. Others will be appalled.
It may strengthen his leadership.
But equally it could weaken it.