Third 'making fewer car journeys' as petrol prices rise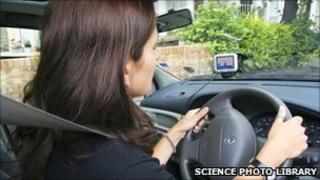 About a third of drivers have cut down on the number of car journeys they make because of the cost of motoring, an RAC report has suggested.
Money needed to run a car was now motorists' number one concern, according to the motoring organisation.
Its survey of 1,000 drivers earlier this year indicated rural drivers were hardest hit, as public transport was often not an alternative.
Unleaded petrol now averages about £1.37 a litre, with diesel about £1.42.
Many of those polled said fuel prices were forcing them to cut out visits to friends, find other ways to get to work and not drive their children to after-school activities.
'Luxury' journeys
The RAC questioned drivers about their attitudes to motoring.
The survey showed 35% had cut down on short journeys, with 30% saying they had reduced the number of longer outings.
Nearly 40% said they now combined as many journeys as possible into one trip.
Meanwhile, 65% of drivers said they would have to severely reduce their car use if fuel prices continued to rise, and 58% said motoring could become a luxury.
And it's not just affecting motorists themselves - 9% said they have stopped driving their children to social and school activities.
John Holland lives in Wakefield, but is separated from his partner, with his daughter at school in Horsham, West Sussex.
He said it made him "really sad" that he could not afford to drive down to see his daughter as much as he would like, simply because he could not afford the diesel.
"The journeys I save up for are going to see my parents, and going down to my daughter's school, and that is about it," he said. "The rest are luxuries and I can't afford them."
'Duty freeze'
The RAC said rural drivers were hardest hit because public transport was less likely to be a practical alternative.
Four out of five rural drivers polled said they could only fulfil family commitments, including transporting elderly relatives, by using their car.
Nearly half (44%) of urban drivers surveyed said a car was essential to meet the same commitments.
"People's ability to live their lives and do the most basic of tasks, such as visit family and take their children to after-school activities, is being threatened - and it looks like it's only going to get worse," said the RAC's motoring strategist, Adrian Tink.
"UK drivers want action from the government. They already pay the highest duty and tax on fuel in Europe. At the very least, we are calling for fuel duty to be frozen and scheduled inflationary rises to be scrapped."
The figures form part of the organisation's annual report on motoring.
They also found only 18% of drivers questioned thought the drink-drive limit should be kept as it was, with the vast majority wanting it reduced.
And 70% want the speed limit on motorways raised to 80mph or more, but only 6% said they wanted higher speed limits on country roads.
Some 16% thought the limit on urban roads should be increased.