Queues at Westminster Abbey to view royal flowers
2 May 2011

From the section

UK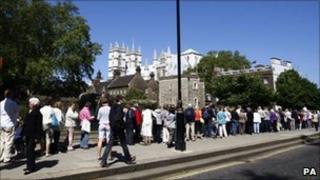 Queues have formed around Westminster Abbey of crowds waiting to see the Duchess of Cambridge's wedding bouquet, as the royal couple are expected to return to Anglesey.
Catherine's bouquet and the avenue of trees which flanked the aisle are on display at the abbey for a week.
Meanwhile, Clarence House has confirmed her wedding dress will go on show.
Prince William has gone back to work as an RAF pilot, with the couple going on honeymoon at a later date.
The abbey has been busy since Saturday - the day after the wedding - when it was opened to the public.
A spokeswoman confirmed it had seen an increase in the number of visitors and eye witnesses said that on Monday queues were reaching the Houses of Parliament, some 300m (1,000ft) away.
The abbey's opening times were extended on Saturday and Monday for an extra hour to allow for the volume of visitors.
Inside, trees and 30,000 flowers brought in for the wedding remain on show.
The aisle was transformed by six field maples and two hornbeams of up to 25ft tall.
The bridal bouquet has been placed, as is tradition, on the grave of the unknown warrior.
Containing British lily of the valley flowers, the placing of the bouquet there dates back to the Queen Mother who placed her own bouquet on the memorial in memory of her brother who was killed in World War I.
The foliage will remain at the abbey until 6 May, when the trees will then be replanted at Highgrove Gardens.
Meanwhile, Clarence House confirmed that Catherine's wedding dress will go on public display.
Plans are being drawn up so that people can see close-up the intricate work of the dress which was designed by Sarah Burton for Alexander McQueen.
A spokeswoman said: "The Duchess of Cambridge is considering a number of options to give members of the public the opportunity to see close up the skilled British craftsmanship that went into the making of her wedding dress by Sarah Burton and her team as well as the Royal School of Needlework."
It is not known exactly when or where it will appear.
But a number of gowns worn by Diana, Princess of Wales, went on display at Kensington Palace.
'Normal day'
The newly-titled Duke and Duchess of Cambridge are expected to return to Anglesey this week so Prince William can get back to his job as a search and rescue pilot.
A Ministry of Defence spokesman said: "The chances are if he's back at work on Tuesday he'll be getting into Anglesey on Monday evening.
"It will be a normal day at work for him after the wedding, nothing special planned."
The couple have opted to delay their honeymoon.
A Clarence House spokeswoman denied claims that Catherine did not know the destination, adding: "The couple planned the honeymoon together."
But she would not comment on when or where they were going.